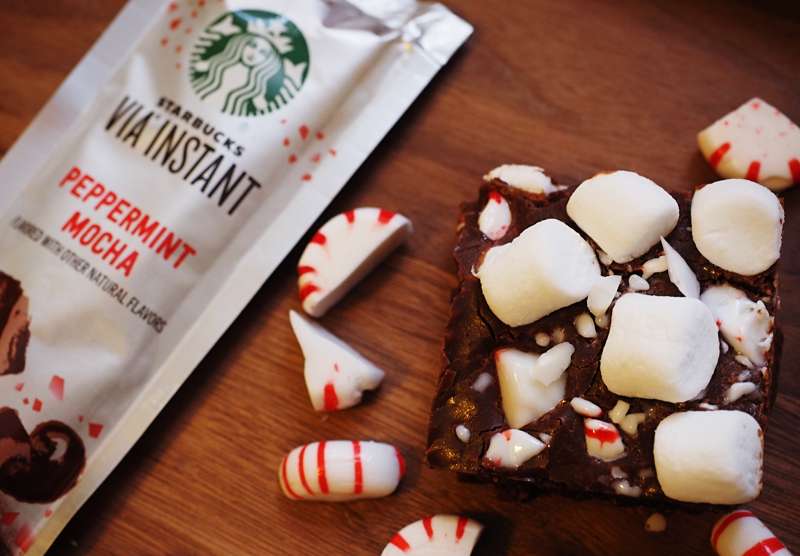 Christmas is this week, and I am feeling super festive! It's also been very cold (hey, remember, I am from California!!) so I have been craving everything peppermint. I love the peppermint mocha via packages for making Christmas treats. Cupcakes are usually my go-to, but this year I decided to change it up a little bit. This fudge is made with chocolate pudding, so it is super rich, chocolatey and easy to make!
The peppermint mocha via packages are only sold for a limited time at Starbucks. This recipe uses one stick, but you can use two if you want a more intense peppermint flavor. Or you can add a peppermint extract as well to give it that extra minty kick.

VIA Peppermint Mocha fudge
Ingredients
8oz semi-sweet Chocolate, chopped, divided
½ cup butter, cubed, divided
½ cup water
1 stick VIA peppermint mocha flavor
1 package (3.9 oz.) Chocolate Pudding
3 cups powdered sugar, sifted
⅔ cups mini marshmallows (optional)
⅓ cup candy canes, crushed (optional)
Instructions
Line 8" square pan with foil, with ends of foil extending over sides.
Using a double boiler, melt 4 oz. chocolate, 6 tablespoons. butter and water. Stir until chocolate is completely melted and mixture is well blended. Add Peppermint mocha VIA stick and the dry pudding mix. Stir until well combined.
Add the powdered sugar, 1 cup at a time, stirring after each addition until well blended. Pour into prepared pan; press into even layer with an offset spatula.
Add the remaining chocolate and butter to the double boiler. Stir until chocolate is completely melted. Pour over fudge layer and spread evenly. Top with crushed candy canes and marshmallows (if using)
Cover and refrigerate for 2 hours or until firm. Use foil handles to remove fudge from pan. Cut into small squares & enjoy!