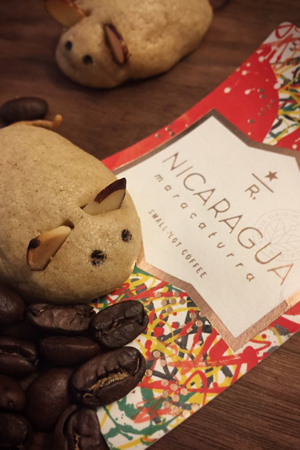 Nicaragua Maracaturra is back! I am pretty excited every time this one comes around, not because it's my favorite (it isn't) but because of the beans. They are HUGE. This is always a great conversation starter about varietals, and what these words that we see on the tasting sheets are; bourbon, typica, and so on. I'll get to that in a minute, but first let me talk about something very important.
Birthdays.
If you have ever worked with me, you know I love to celebrate birthdays. I don't know how or why this started, but it is honestly my most favorite thing. On Saturday, one of my partners has a birthday, except neither of us work on Saturday, so we celebrated today. Lisa loves and collects mice, so I wanted to do something special, just for her on her day.
Meet the spice mice.
Lisa and I are both openers, so we see each other 5 days a week at 5 in the morning. Even though we have only worked together for 6 months, it's safe to say, we know a lot about one another 🙂 She's the first person I see most days, and is an absolute delight. Lisa collects mice, so I knew I wanted to do something with mice, but I didn't want to go out and buy something. I wanted to really make it personal, and really make a connection with the coffee. Spice mice are a simple spice cookie decorated with almonds to look like a mouse, and they pair perfectly with the Nicaragua Maracaturra.
These are super simple to make, and the spices could be adjusted to suit other coffees as well. Plus they are over the top adorable!!!!!!!

Nicaragua Maracaturra with spice mice
Ingredients
¾ cups unsalted butter, room temperature
1 cup packed light brown sugar
1 egg
1 teaspoon pure vanilla extract
2½ cups all-purpose flour
½ teaspoon baking powder
¼ teaspoon cinnamon
½ teaspoon ground allspice
⅛ teaspoon ground cardamom
⅛ teaspoon kosher salt
¼ cup sliced almonds
chow mein noodles
Instructions
Preheat oven to 350 degrees. Line baking sheets with parchment paper; set aside.
In a stand mixer beat butter with brown sugar until light and fluffy, about 5 minutes; beat in egg and vanilla. In separate bowl, whisk together flour, baking powder, cinnamon, allspice, cardamom and salt. Add the flour mixture to the butter one cup at a time, scraping the sides down after each addition.
Using a tablespoon, for egg shaped dough balls. Place, 2 inches apart on prepared pans.
Insert 2 almond slices for ears at narrow end. Insert 1 chow mein noodle for tail at wide end. I used a food safe marker to make the eyes. Refrigerate for 15 minutes.
Bake the mice for 15-17 minutes, or until golden brown. Let cool on pans on racks for 5 minutes. You may need to adjust the "ears" and "tails" after baking. Let cool on a wire rack and then store in an airtight container.
OK. Maracaturra. What does that crazy word mean? Maracaturra is the varietal of coffee. This is actually a hybrid varietal; Maragogipe, which are nicknamed elephant beans due to their size, and Caturra. Mara also means crowded in Spanish. Look at how huge these beans are, and try to imagine all of the cherries on a coffee tree!
Maragogipe beans are a very low yielding varietal, and when crossed with the caturra, a high yielding varietal with balanced flavor, the result is something magical. Big beans with big flavor. Unfortunately, the Maracaturra varietal is very delicate, making it a target for a fungus called coffee rust. Not many farmers grow this type of coffee, making this a rarity, a true gem not to be missed. This is only the third time Starbucks has offered Maracaturra, so be sure to grab it while it's here!