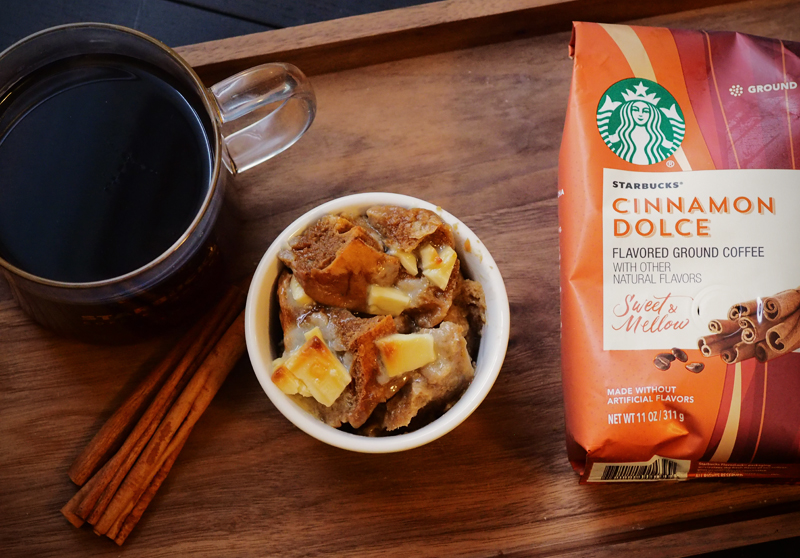 If you've ever wandered the coffee aisle in the grocery store, you might have noticed that there are a lot of different coffees that Starbucks stores don't carry. From decaf Verona, to Bright Sky blend, it's a whole new coffee world to explore. My friend Melody asked me to put together a recipe for one of the CPG (consumer packaged goods) products, and I saw the newly redesigned bag of the cinnamon dolce flavors coffee, and I thought this might be perfect.
When I was on vacation a few weeks ago, I had an incredible bread pudding for dessert at Chesapeake and Main (I almost never order dessert, but I couldn't resist.) It was a cinnamon bread pudding with caramel, carrot cream cheese and crème fraîche. I kind of wanted to do a play on that along with the snickerdoodle hot chocolate, because honestly, white chocolate + cinnamon dolce is an excellent combination!
This is a quick and easy recipe to put together, and as always, you can easily adjust this to make something totally new! What about Caffe Verona with dark chocolate? So many possibilities! 🙂
This is a pre-ground blond roast coffee, with a buttery cinnamon flavor, much like the taste of a cinnamon dolce latte. You'll notice on the bag, that they recommend a different proportion for brewing. Instead of 2 tablespoons for every 6 ounces of water, they recommend to use 1 1/2 tablespoons for every 6 ounces of water. Of course I  have to taste test this!
I brewed two cups, one using the standard proportion, 2T for every 6 ounces, and on the right is using the recommended dose of 1.5T for every 6 ounces of water. You can see that the cup on the right is much lighter, and I personally found it to be too light for me. Then again,  I am a dark roast kind of girl.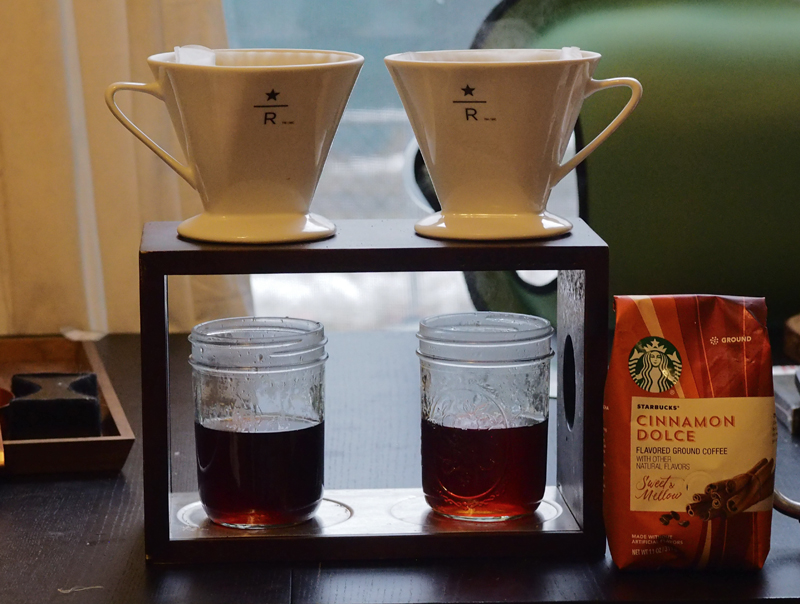 Overall, I don't mind this coffee at all. It smells incredible. I made a cup, and my husband walked in the kitchen and said "Wow it smells amazing in here!!" It really fills up the entire room with a sweet cinnamon flavor. The taste is not bad either, doesn't taste fake or artificial at all! I knew this would be a great coffee to cook with because of it's light body, and sweet buttery flavor.
This coffee can be found in most grocery stores. I got mine at Kroger, but they also have it at Target, Safeway, and other major retailers. You will even be able to earn 10 bonus stars onto your Starbucks account!
Cinnamon Dolce latte bread pudding
Ingredients
1½ cups whole milk
1 cup brewed Starbucks Cinnamon Dolce coffee, cooled
1 box (3.4 oz) vanilla flavor pudding & pie filling
3 cups french bread cubes
4 oz white chocolate, cut into chunks
1 teaspoon of vanilla extract
Instructions
Pre heat oven to 375 degrees
Ina large bowl, pour the milk and coffee. Add the pudding mixture and wisk until well blended. Stir in the bread cubes, white chocolate and vanilla.
Pour into a 1 quart baking dish.
Bake for 35-40 minutes, or until the mixture comes to a boil. Remove from oven and let stand for 10 minutes before serving.