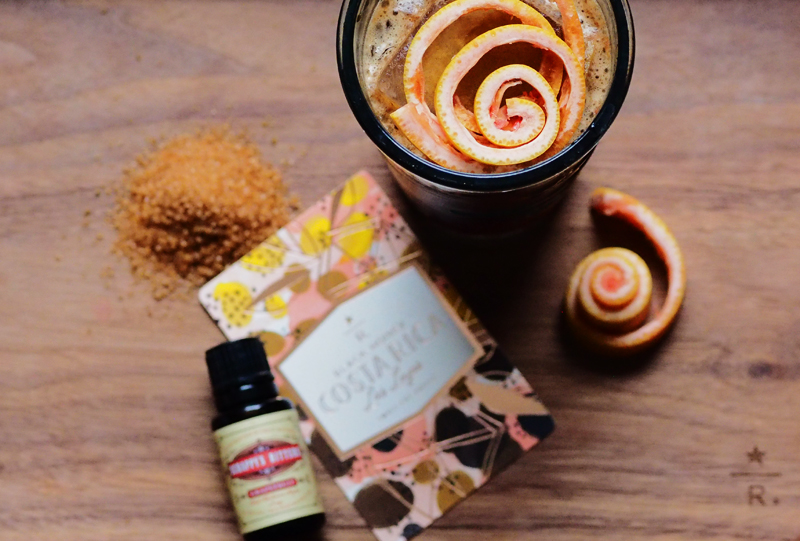 If you've been to the Roastery or a Starbucks Reserve bar recently, you might have seen a drink on the menu called the 'Melrose'. The Melrose is Starbucks twist on a manhattan, cold brew, demerara sugar, cherry bitters topped with a cherry. When I visited the reserve bar in New York last month, I fell in love with this drink, and knew I wanted to recreate it at home.
When Costa Rica Las Lajas launched, I was taken aback by the intense grapefruit notes in this coffee, and thought that this might make the perfect cold brew. It is crisp, sweet and refreshingly tart. I decided to make my own version of the Melrose using this coffee.
Introducing the Wilder.
Why the name Wilder? The Melrose gets it's name from the Roastery's location; Pike and Melrose. My store is on Wilder & State, and Wilder just sounds like a fun name, doesn't it? 🙂
In January, my husband and I took a trip back east, and spent a day in New York. Of course we had to stop at a Reserve bar. I was told to check out this one on Madison avenue. It is formerly a Teavana Tea Bar, and is a much smaller space than most Reserve bars are. This store was gorgeous, very intimate and the partners were so welcoming to us! I ordered the Melrose and the Cardamom latte, both delicious!
When we got home from New York, I had to do a coffee tasting for my Regional Director, and I decided to go with the Black Honey Costa Rica Las Lajas due to it's unique processing method. I was really captured by the tart grapefruit notes this coffee has, and couldn't wait to make a cold brew with it. The result is the Wilder.
To create the Wilder is pretty simple. You'll start off with a cold brew of Costa Rica black honey Las Lajas. There are many ways to make a cold brew, but I still to a basic 1:4 ratio of coffee to water.
I take a french press or my softbrew and fill it with 4 cups room temperature, filtered water. Stir in one cup of ground coffee (ground for a french press). Cover (if using a press, fit the lid on, but do not plunge it) and put in a cool, dark place for about 16 hours. Now you can go ahead and plunge the french press, or pull the filter from the softbrew. If using a french press, I like to filter the cold brew through a paper filter to get any sediment that might have snuck through.
Next you'll need demerara simple syrup. (you can substitute classic syrup) Making simple syrups is so easy. Just use equal amounts of demerara sugar and water. Combine sugar and water in a small saucepan over medium heat and stir until sugar dissolves. Remove from heat, let cool to room temperature and transfer to a clean glass jar. Cover and keep refrigerated for up to 2 weeks.
I like using demerara syrups in coffee drinks because it adds an almost caramel sweetness, and really complements the flavor of bitters.
Bitters. There are so many different types of bitters out there. I personally prefer Scrappy's bitters. Not only are the a Seattle company, but they make the most divine lavender bitters. I have been hooked ever since I used them to make lavender sugarcubes to pair with Hacienda Alsacia. For the Wilder I chose Scrappy's grapefruit bitters.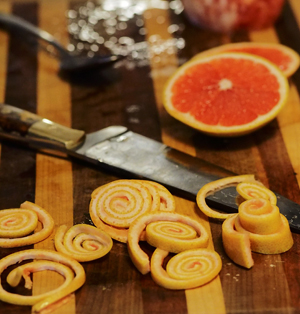 You'll also need a grapefruit twist to garnish it. For this I asked my husband to help me. He simply cut of the ends of a grapefruit, and using a knife, hollowed out the core, leaving a grapefruit ring. He then cut one side, rolled it up tightly, and sliced it, like a jelly roll. I love how big and pronounced these spirals came out! thank you, Mike! 🙂
Not only did he make the grapefruit twists, but he also made me that beautiful knife! You can check out more of his craft at freemanforge.com
| | To assemble this drink, simply pour 12 ounces of cold brew into a shaker, add your desired amount of simple syrup, a dash of bitters (a little goes a long way) and ice. Shake it (10 times!) and pour into a glass. Garnish with grapefruit twist and enjoy! |
| --- | --- |