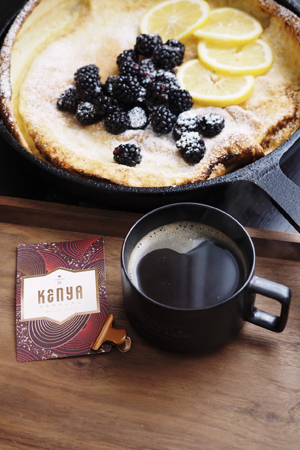 Kenya Kangunu is the newest online exclusive coffee to be offered on the online store. This is the third offering, the first being Costa Rica Vista del Mar yellow honey and Papua New Guinea Luoka. These coffees are, to my knowledge, released in other countries, but a small amount is offered online. Because of the limited quantities, these seems to sell out fairly quickly! I was lucky enough to notice Kenya Kangunu shortly after it was released online and ordered it right away.
I first tasted this side by side with core Kenya, and was surprised how different they were. The Kangunu is lush with a layered complexity with notes of dark chocolate and lemon, while the core Kenya is juicy with unmistakeable notes of grapefruit.
This is a fully washed coffee with a Kenyan style double fermentation (also known as the "double soak"). What does that process look like? The cherries are depulped and then fermented in upper tanks for 12 hours. After a quick wash, they ferment the coffee a second time to ensure maximum acidity and cleanliness before they wash and grade it in channels. They soak it overnight to increase acidity, brightness and cup clarity. They sort the parchment as it dries on raised beds for 10-14 days, and will rest for about 30 days before shipment. The result of this double fermentation method is a beautifully balanced and complex cup. Tangy and lemony with black currant and dark chocolate undertones.
Mkate wa Maji is a traditional Kenyan crepe or pancake. It is traditionally flavored with cardamom and brown sugar and served with tea. When I was growing up, on the weekends my mom would always cook us dutch babies for breakfast. For this pairing I decided to essentially combine the two to make a more modern pairing. The creme is served with lemon curd, fresh blackberries and powdered sugar.  The lemon curd bring out the vibrant and zesty lemon notes, making for a perfect way to start the day!

Kenya Kangunu with lemon mkate wa maji
Ingredients
3 eggs
½ cup all purpose flour
½ cup wholemilk
1 tablespoon light brown sugar
¼ teaspoon ground cardamom
1 teaspoon pure vanilla extract
2 teaspoons lemon zest
Pinch of kosher salt
4 tablespoons unsalted butter
¼ cup lemon curd
½ pint fresh blackberries
confectioners sugar for dusting
Instructions
Preheat oven to 425º F
Add eggs, flour, milk, brown sugar, cardamom, vanilla extract, salt and lemon zest together into a blender and blend until smooth.
Place butter in a cast iron skillet (10-12") and place in the oven until butter has melted. Pour batter into each pan, return to oven and bake for 20 minutes, until the pancakes are puffed and golden brown. Lower oven temperature to 300 degrees and bake for an additional five minutes.
Remove cast iron pan from oven, cut into wedges and top with a dusting of powdered sugar, a generous spoonful of lemon curd and fresh blackberries.