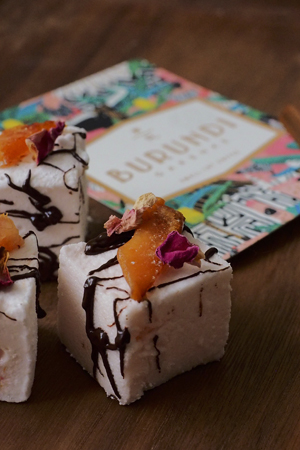 Friday's are one of my favorite days. Not only for the obvious reason, but that is the day that my Starbucks Reserve subscription arrives! This months offering is Burundi Gakenke. The flavor profile of this coffee intrigued me from the get go. Elegant flavors of grapefruit, dark chocolate and sweet rose. Three very distinct flavors that all compliment each other, but if out of balance, could create chaos.
Challenge accepted.
A few weeks ago, Alton Brown posted a more in depth recipe for his candied orange peels.  I made these, and he reposted the photo saying that I nailed it (I almost died.) The candied orange peels were so good, and the amaranth wafers were a huge hit and really complimented the coffee (Papua New Guinea Luoka if you were wondering) If you haven't already, please go buy Every Day Cook! It's seriously worth it just for the amaranth wafer and cold brew recipes alone!
Anyways, I was curious to try this recipe with other citrus fruits, and when this coffee showed up, I knew this would be perfect.
Two things I probably use far too often in coffee tastings; homemade marshmallows and bitters. Marshmallows are perfect for coffee tastings because you can make them in nearly any flavor and they look gorgeous. I love sinking a homemade marshmallow in a hot cup of coffee and allowing it to melt, giving the coffee a new mouthfeel and flavor. Bitters are also great because a few drops can pack a huge punch. I always use Scrappy's Bitters. Not only because they are a Seattle brand that I adore, but their product is top notch. My favorite, hands down is the lavender bitters, but today we will be using grapefruit, which has a great bitterness to it that balances out the sweetness of the marshmallow.

grapefruit bitter spiked marshmallows
Ingredients
3 packages unflavored gelatin
1 cup ruby red grapefruit juice, divided
1½ cups sugar
1 cup light corn syrup
¼ teaspoon salt
2 teaspoons pure vanilla extract
grapefruit bitters
orange & pink food coloring (optional)
¼ cup confectioners' sugar
¼ cup cornstarch
Nonstick spray
Instructions
Place the gelatin into the bowl of a stand mixer along with ½ cup of the grapefruit juice. Have the whisk attachment standing by.
In a small saucepan combine the remaining ½ cup grapefruit juice, granulated sugar, corn syrup and salt. Place over medium high heat, cover and allow to cook for 3 to 4 minutes. Uncover, clip a candy thermometer onto the side of the pan and continue to cook until the mixture reaches 240 degrees F, approximately 7 to 8 minutes. Once the mixture reaches this temperature, immediately remove from the heat.
Turn the mixer on low speed and, while running, slowly pour the sugar syrup down the side of the bowl into the gelatin mixture. Once you have added all of the syrup, increase the speed to high. Continue to whip until the mixture becomes very thick and is lukewarm, approximately 12 to 15 minutes. Add the vanilla extract and 3-4 shakes of grapefruit bitters during the last minute of whipping. While the mixture is whipping prepare the pans as follows.
Combine the confectioners' sugar and cornstarch in a small bowl. Lightly spray a 13 by 9-inch metal baking pan with nonstick cooking spray. Add the sugar and cornstarch mixture and move around to completely coat the bottom and sides of the pan. Return the remaining mixture to the bowl for later use.
When ready, pour the mixture into the prepared pan, using a lightly oiled spatula for spreading evenly into the pan. Dust the top with enough of the remaining sugar and cornstarch mixture to lightly cover. Reserve the rest for later. Allow the marshmallows to sit uncovered for at least 4 hours and up to overnight.
Turn the marshmallows out onto a cutting board and cut into 1-inch squares using a pizza wheel dusted with the confectioners' sugar mixture. Once cut, lightly dust all sides of each marshmallow with the remaining mixture, using additional if necessary. Store in an airtight container for up to 3 weeks.
To decorate the marshmallows, melt dark chocolate and drizzle over the top. If you want more chocolate, you can completely drench them in chocolate. Top with candied grapefruit peels. (
recipe here
, thank you Alton Brown!)