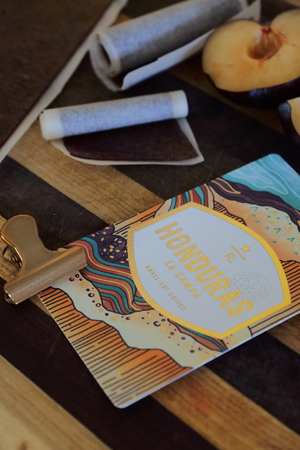 August's reserve subscription is Honduras La Campa. This is only the second time that I have seen a coffee from Honduras, the first being Honduras Premier.
The terrain in Honduras is rugged and precipitous, so getting ripe cherries has been a challenge. I am extremely delighted by this cup, unexpectedly fruity and complex with notes of plum and caramel.
This is the second to last reserve subscription coffee that will be available, as the online store is closing in October. I will miss my exclusive coffee every month, but I know Starbucks will come up with something new and exciting to continue to delight us and expand our coffee journey. The final coffee will be Colombia la Casiana, which you can still get (until September 3rd) here.
Honduras La Campa is a fully washed coffee with a medium body and medium acidity with notes of currant and plum with a sweet caramel finish.
When we first tried this coffee, I paired it with fresh plums and a salted caramel chocolate sauce. I really liked this coffee with the fresh plums, but I thought the flavor could be even more transformed if the plums were grilled. Using that idea, I decided to bake the plums and transform them into fruit leather.
Making fruit leather is super easy, and you can either do it in a food dehydrator or your oven! this is not the first time I've made fruit leather for a coffee tasting. There are so many different types you can make to pair with different coffee. Plus it's super easy to do!

Plum & ginger fruit leather
Ingredients
4 cups chopped plums
2 T honey (I used coffee blossom honey)
1 tablespoon lemon juice
½ teaspoon fresh grated ginger
Instructions
Place chopped plums on a baking sheet and bake at 350 degrees for 20 minutes.
Add cooked plums, honey, lemon juice, and ginger to a food processor or blender and puree until smooth.
Pour into a pan lined with parchment paper then spread out ⅛ to ¼ inch thick.
Dehydrate in oven at 140 to 170 degrees (or as low as oven will go) for 6 to 8 hours, until middle is not longer sticky.
Allow to cool, then use clean scissors to cut the leather into strips (parchment paper still on).
Roll leather so that the parchment paper is on the outside.