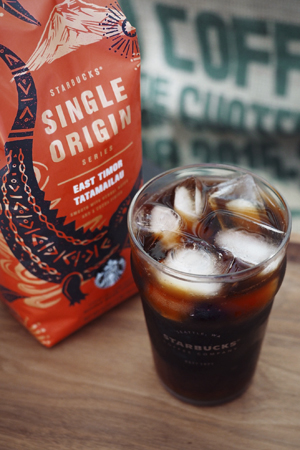 The latest single origin release comes from East Timor. East Timor Tatamailau. This washed dark roast has herbal notes with a cocoa finish.
Since summer is still in full swing here, I really wanted to turn this into an iced coffee. Pulling from the complimentary flavors of maple, I decided to change up the four fundamentals and use maple water in place of regular filtered water.
What is maple water? Maple water is water that has been harvested from maple trees in Vermont during the spring. The result is  clean, pure and refreshing drink, with a delicate touch of maple flavor. Using this in place of regular filtered water in a cold brew only slightly alters the flavor. The maple lends a touch of sweetness that helps balance the herbal flavors. I normally shy away from using such a dark roast as a cold brew (personal preference) but the East Timor Tatamailau might be my new favorite end of summer cold brew.
One of the really great things about this coffee is that it is Fair Trade certified. We currently only have one Fair Trade certified coffee in our line-up (Italian Roast), so its nice to offer something different.
This coffee gets its name from Tatamailau; a mountain located in the center of the island with the highest peak in East Timor. In the native language of Tetum, Tatamailau means 'grandfather of all'. There is a legend about the island of East Timor. In the legend, a boy saves a crocodile's life and in return for his kindness, the crocodile turns into an island where he and his children can live. The ridged back of the crocodile signifies the mountains (the highest ridge being Mt. Tatamailau) and his scales the hills of Timor.
To make this cold brew, I use a standard 1:4 ratio. 1 cup of coarsely ground coffee to 4 cups maple water. The easiest way is to make this in a french press. Simply add the ground coffee, pour the maple water on top, giving it a good stir making sure all of the grounds are saturated. Affix the lid of the press, but do not press it down. Leave in a dark corner (I store mine in a cabinet) for around 16 hours. Once time is up, press  and pour.
Pro tip: If I am using a french press, I will usually filter the coffee a second time through my chemex to remove any sediment. Store in the refrigerator until cold and then enjoy!
Have you used any other types of waters in place of "regular" water?