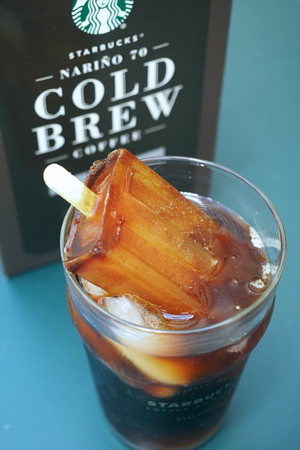 When I was in Maui a few years back, I became obsessed with one of the "Hawaii only" offerings; Thai walls. You can order any drink with thai walls, and it is essentially sweetened condensed milk drizzled in the cup. I normally drink my coffee black, but this was a game changer. Suddenly I was ordering everything with thai walls. Strawberry Acai refreshers, Starbucks double shots, flat whites, but my favorite was the cold brew. Imagine drinking cold brew with a hint of vanilla frosting. That's exactly what it tastes like. Those few weeks in Hawaii were so special to me, and being back in California, where every day is in the 90's (or today was in the 100s), sitting by the pool under a palm tree, I am almost transported back to the island. Almost.
Today I decided that I should try to recreate it, but I was also craving ice cream.. and so, the cold brew popsicle was born.
I have written about Nariño 70 Cold Brew before. Generally when I make cold brew, I use a reserve coffee and my coffee sock, but the cold brew pitcher packs are just too convenient (and delicious). It's so easy. No mess to clean up. Just open the foil bag, pop in both bags inside, add water and wait. Waiting is often the most difficult part!
Nariño 70 Cold Brew is a blend of beans from the Nariño region of Colombia and East Africa. The coffee team at Starbucks actually went through about 65 different versions of cold brew before they decided on this one. I am often curious what those other 64 blends were, but they really hit the nail on the head with the Nariño 70 Cold Brew. It's bold and smooth with rich cocoa notes, and just so happens to compliment the sweetness of sweetened condensed milk.
Making popsicles is ridiculously easy. All you need is a popsicle mold, some sticks, and you are good to go.

Cold Brew coffee popsicles
Ingredients
2 cups prepared Nariño 70 Cold Brew
¼ cup sweetened condensed milk
¼ cup whole milk
Instructions
Make the Nariño 70 Cold Brew per the instructions. If you like your coffee to be stronger, add less water. You can also add sugar to sweeten it if you'd like.
In a small bowl, whisk the whole milk and sweetened condensed milk until combined. Divide evenly in the popsicle mold. Place mold in freezer for 30 minutes.
Take mold out of the freezer and top with the cold brew coffee. Insert the popsicle sticks and return to the freezer. Freeze until hard (overnight is best).
To remove the pops from the mold, fill the sink with warm water. place the mold in the bath, and gently pull. (They should easily slide out after a few seconds in the bath). Eat immediately, or place in freezer bags and store in freezer.
Maui… until we meet again…