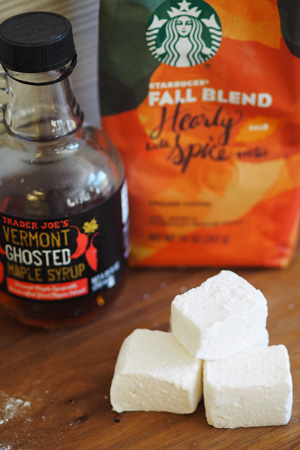 Fall is right around the corner, and even though it doesn't feel like anything but summer in California, I am so ready for the change of the seasons. Normally, right now I would be drinking cup after cup of Anniversary blend, but we won't have that treasure until after Christmas. Instead I grabbed one of my other fall favorites, which is not sold in Starbucks stores. You can find Fall blend at Target, Wal-Mart or Amazon.
Fall blend is a blend of coffee from all three growing regions, and is a hearty blend with warm spice notes. 
Fall blend combines coffee from Sumatra, Kenya and Peru. Each region bringing a different nuance to the cup. The warm spice of Sumatra, the crispness of Kenya and the nuttiness of Peru. This is a very versatile cup that can go with many different pairings. For this pairing, I really wanted to bring out the warm spice notes. When I was at Trader Joe's a few days ago, they were just putting out all of their fall stuff. I saw the ghosted maple syrup (maple syrup with ghost peppers!!!!) and instantly knew I wanted to use this to make marshmallows and pair them with this coffee. Many people ask where I get these ideas, and I don't have an answer. I will randomly see something and have an "a-ha" moment. The ghosted maple syrup was my a-ha moment for fall blend!
Now, I spent many years of my life not living near a Trader Joe's. In fact, when I was living in Michigan, I would routinely make the once a week visit to Trader Joe's and Whole foods – which was 2 hours away! I am fortunate now to have a TJ's very close by, not sure what I would do without it! That being said, you can only find this syrup at Trader Joe's, and it is a seasonal item, which means it won't be around very long. This is one I would suggest stocking up on if you can. If you don't have a Trader Joe's nearby, or you don't like spicy food, you can always substitute regular maple syrup in this recipe. They'll still be good, I promise 🙂
*ps: I have found a similar syrup on Amazon. 🙂
Fall blend with ghosted maple marshmallows
Ingredients
3 packages unflavored gelatin
1 cup ice cold water, divided
1 cup sugar
½ cup ghosted maple syrup
1 cup light corn syrup
¼ teaspoon salt
1 teaspoons pure vanilla extract
¼ cup confectioners' sugar
¼ cup cornstarch
Nonstick spray
Instructions
Place the gelatin into the bowl of a stand mixer along with ½ cup of the water. Have the whisk attachment standing by.
In a small saucepan combine the remaining ½ cup water, granulated sugar, maple syrup, corn syrup, and salt. Place over medium high heat, cover and allow to cook for 3 to 4 minutes. Uncover, clip a candy thermometer onto the side of the pan and continue to cook until the mixture reaches 240 degrees F, approximately 7 to 8 minutes. Once the mixture reaches this temperature, immediately remove from the heat.
Turn the mixer on low speed and, while running, slowly pour the sugar syrup down the side of the bowl into the gelatin mixture. Once you have added all of the syrup, increase the speed to high. Continue to whip until the mixture becomes very thick and is lukewarm, approximately 12 to 15 minutes. Add the vanilla extract during the last minute of whipping. While the mixture is whipping prepare the pans as follows.
Combine the confectioners' sugar and cornstarch in a small bowl. Lightly spray a 13 by 9-inch metal baking pan with nonstick cooking spray. Add the sugar and cornstarch mixture and move around to completely coat the bottom and sides of the pan. Return the remaining mixture to the bowl for later use.
When ready, pour the mixture into the prepared pan, using a lightly oiled spatula for spreading evenly into the pan. Dust the top with enough of the remaining sugar and cornstarch mixture to lightly cover. Reserve the rest for later. Allow the marshmallows to sit uncovered for at least 4 hours and up to overnight.
Turn the marshmallows out onto a cutting board and cut into 1-inch squares using a pizza wheel dusted with the confectioners' sugar mixture. Once cut, lightly dust all sides of each marshmallow with the remaining mixture, using additional if necessary. Store in an airtight container for up to 3 weeks.
When making marshmallows, make your life easier and invest in a marshmallow pan. I am not one for kitchen unitaskers, however, this is one I can not live without!