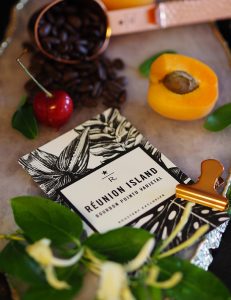 Every once in a while a coffee just captures me. It swoops in out of nowhere, and perfectly occupies a space in my heart. I heard about this new coffee at the Seattle roastery and was intrigued; Réunion Island Bourbon Pointu Varietal. There was little to no information about it, and it was expensive and very limited. As luck would have it, my coffee angel, Melody, sent me some. It sat on my desk, and I would just stare at it thinking, what am I going to do with you?. 
That same day, I went on a walk with my friend. We walked along the trail behind my house, the trail I used to explore as a child. Along the fencing, was a huge bush of honeysuckle and jasmine. Suddenly, a huge wave of memories hit me. I carried that feeling and those scents home with me.
I came home inspired, filled with nostalgia, and I knew I wanted to do something to pay respect to the love and lore of Réunion Island.
One of the coffees widely associated with Brazil is Bourbon. Bourbon coffee was first produced on an island of the coast of Madagascar known as Bourbon (now called Réunion). It was later taken by the French to mainland Africa and to Latin America. It was only in 1727 that the first coffee bush was planted in Brazil. It is now one of the most popular coffees grown worldwide
The legend is that while stationed in Brazil Lieutenant Colonel Francisco de Melo Palheta traveled to French Guiana. The King of Portugal had dispatched him to help settle a land dispute between the French and Dutch colonies. Melo Palheta followed his orders but also set his sights on smuggling out one of the coveted coffee trees that the French had brought to the region from the island of Bourbon.
When Francisco arrived in the city of Cayenne he met the Governor's wife Madame D'Orvilliers. The two began a love affair that culminated in the French Lady presenting him with a bouquet of flowers at the closing banquet. Much to the dismay of the French the bouquet secretly contained a Bourbon tree seedling.
Francisco de Melo Palheta brought the tree back to Brazil and it became the progenitor of the country's coffee industry. This expansion helped spread coffee and allowed it to change from a drink for the elite to a drink for all people. This fueled the worlds love for coffee and over time transformed Brazil into the largest coffee producing country in the world.
---
#coffeedidyouknow The caffeine content of Bourbon Pointu is significantly lower than most arabica coffee at 0.6%. Most arabica coffee contains twice as much; 1.2-1.6%
---
Réunion Island Bourbon Pointu is a washed light bodied coffee with a medium acidity. Delicate, fruity floral aromas with bright cherry and apricot notes. The roast definitely accentuates the acidity and brings the fruit and floral notes to the forefront.
I really wanted to honor the origin of this coffee, so I began by researching traditional recipes from Réunion Island. I quickly found a recipe for a banana cake, which didn't have the flavor profile I was looking for, but it sounded so delicious. Then I thought.. why not a play on a pineapple upside down cake?

upside down apricot and cherry cake
Ingredients
4 very ripe bananas
1 cup sugar
4 large eggs
10 T butter, softened
1 T white rum (you can substitute vanilla extract)
1.5 cup flour
1 t baking powder
½ t baking soda
¼ t ginger

For the fruit topping:
⅔ cup butter
1 cup cherries, pitted
6 apricots, sliced
½ cup brown sugar
Instructions
Pre heat the oven to 350. Prepare a springform pan with nonstick spray, set aside.
In a large skillet, combine the brown sugar, butter and fruit. Heat until butter is completely melted, stirring often. Allow to cook and caramelize, about 5-7 minutes. Remove from heat, set aside.
Using a stand mixer, combine the peeled bananas and sugar. Mix until smooth. Add the butter, making sure it's completely mixed. Add the eggs, one at a time, beating after each addition. If using, add white rum or vanilla extract.
In a small bowl, whisk together the dry ingredients, and slowly incorporate to the wet. Be mindful to not overmix.
Once the batter is complete, spoon the fruits (I also include the jices) into the bottom of the springform pan. Make sure your springform pan is locked before you do this!! Spread the fruit out evenly across the bottom of the pan. Slowly pour the prepared batter on top, smoothing it to the edges. Bake in preheated oven for 40-50 minutes.
Remove from oven and allow to cool before flipping and unmolding. This is one of those cakes that is amazing cold or hot, I prefer it hot 🙂
Notes
This cake can easily be made vegan! Just swap out the eggs and the butter for plant based options 🙂
This coffee is only available at the Starbucks Reserve Roastery in Seattle. I am told only a few hundred pounds were purchased, and this maybe be the only opportunity to try it. If you are a coffee nerd, you have heard of this varietal, but probably never thought in a million years you'd get to try it. Thank you to the coffee buyers at Starbucks for this, and of course,
Melody
, for sending it to me.