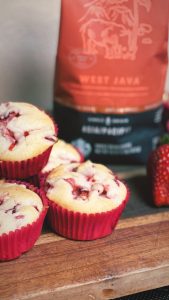 Long time no see. 🙂
Over the past two years I have been taking control of my health and wellness. Sounds cliche, I know, but I have been on a transformative path, and I had to change a lot of habits. The biggest; my diet. I have switched over to a vegan diet, minimal sugar and no alcohol. You know me, I love to bake, I love to make things loaded with all the things I can no longer have… and sometimes I still do make them (I just don't eat them), but for a while I have been wanting to change my voice; living a plant based active life.
I apreciate all of my readers so much, and this blog isn't going anywhere.. it might just change into something else. I have a lot of ideas, but this year has been busy, to say the least.
Anyways, I dislike the prolonged introductions, let's get into the recipe, and the coffee!
Now, something else that had to change, was the amount of coffee I drink. Coffee was doing more harm than good. It makes my anxeity skyrocket, I wasn't sleeping, so it was also something I had to eliminate from my diet. I will limit myself to one coffee drink a day, before noon only. This has helped immensely.. I can live without alcohol. I can live without sugar. I can NOT live without coffee. Well, I probably could, but I do not want to. Especially when you have a coffee like this; Starbucks passport series West Java.
You might be having a bit of deja vu with this coffee. If it seems familiar, that's because it was a component in the 2019 Thanksgiving blend. The partners in the cupping room loved this coffee so much, they brought it back as part of the passport series. West Java is a medium roast, semi-washed coffee. Starbucks usually sources washed coffees from the east side of the island of Java, however, this coffee mirrors  the wet-hulled process from neighboring Sumatra and Sulawesi to unlock previously hidden layers of flavor and complexity.
---
#coffeemasterchallenge
Compare Starbucks Passport series West Java with our Anniversary Blend. Pair with a piece of dark chocolate. What difference and similarities do you notice? Let me know in the comments!
---
West Java with strawberry-vanilla bean muffins
Ingredients
½ cocnut oil
1¼ cup sugar
1 container (5.3 oz) of non dairy vanilla yogurt. I used Trader Joe's almond yogurt)
2 cup flour
2 teaspoons baking powder
¼ t salt
½ cup almond milk, or non dairy milk of choice.
1 t cornstarch
1 t vanilla extract
1 vanilla bean pod, scraped (optional)
15 strawberries, coarsly chopped
Instructions
Using a stand mixer, combine the coconut oil and sugar until light and fluffy. Add the yogurt, and continue to mix until combined.
Sift together the flour, baking powder and salt. Set aside.
Add 1 teaspoon of cornstarch to your almond milk and stir to help thicken it a little. Add vanilla extract and vanilla bean pod, if using.
Add the dry and wet ingredients, alternating, until just combined.
Fold in chopped strawberries.
Spoon into prepared muffin tins, about ¾ of the way full.
Bake a 375 for 27 minutes.