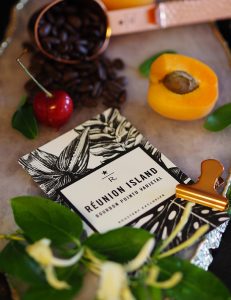 Every once in a while a coffee just captures me. It swoops in out of nowhere, and perfectly occupies a space in my heart. I heard about this new coffee at the Seattle roastery and was intrigued; Réunion Island Bourbon Pointu Varietal. There was little to no information about it, and it was expensive and very limited. As luck would have it, my coffee angel, Melody, sent me some. It sat on my desk, and I would just stare at it thinking, what am I going to do with you?. 
That same day, I went on a walk with my friend. We walked along the trail behind my house, the trail I used to explore as a child. Along the fencing, was a huge bush of honeysuckle and jasmine. Suddenly, a huge wave of memories hit me. I carried that feeling and those scents home with me.
I came home inspired, filled with nostalgia, and I knew I wanted to do something to pay respect to the love and lore of Réunion Island.
…