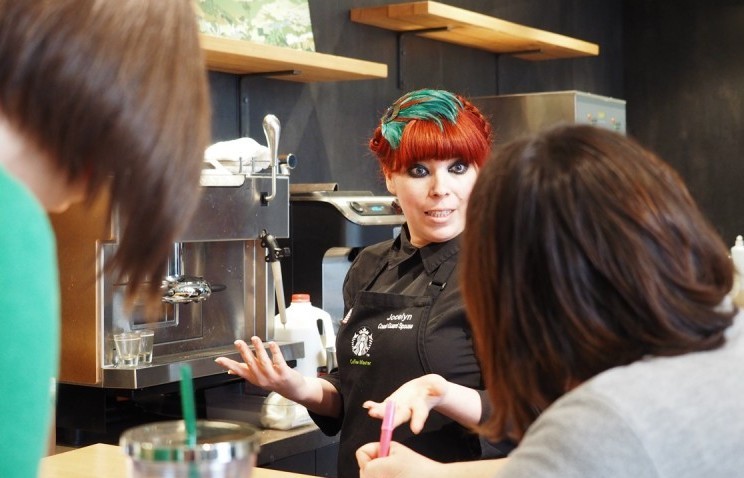 I was fortunate enough to compete in the first ever Starbucks barista championships! I was representing my district (108) and competing in the area 12 finals. I was very honored and proud to have this incredible opportunity. I was also pretty terrified. The competition is broken up in to two parts; lucky pick coffee tastings and barista craft. I was selected to go first in the coffee tasting round.
I had to select a customer scenario, and choose a coffee and food pairing and then present it. Sounds easy enough, right? My scenario was something along the lines of "your customer drinks a double tall cappuccino everyday. He brews coffee at home, but finds it weak". I decided to go with a french press of espresso roast, not only because it is one of my favorite coffees, but also because it is a coffee that most people don't choose to brew as a press. The food options were stuff you'd find in Starbucks, and I went with a milk chocolate graham cracker.
I made my selections and had to go prepare my french press. I had 15 minutes to do so, which I am so thankful for, because I couldn't get the scale to work. I almost had a panic attack and I hadn't even started my tasting yet. My district manager came and helped me (he touched a button and it worked) and I was on my way.
Honestly, I thought my tasting went pretty well. Yes, I was nervous, and YES, I was super awkward, but I prepared a coffee that I have a passion for, and I have a ton of random little facts about our Espresso roast that I was able to toss in. I am hoping that the judges learned at least one new thing from my presentation.
After my coffee tasting, I was on a break until my barista craft round. It gave my a chance to nervously pace up and down the 8th and 9th floors of Starbucks corporate, and also watch other barista champions compete. I think the best part of the whole day was meeting other partners who were just as crazy about coffee as I am. To get a bunch of people with an intense passion for the bean is an amazing thing, truly inspirational. I knew no matter what the outcome of the day was, I am a barista champion.
Next up, barista craft. I firmly believe that there are good latte art days, and not good latte art days. Some days I can pour the nicest rosettas.. I was hoping that today would be one of those days. It wasn't.
Looking up at the writing on the wall above me, I was ready. I was ready to do what I do every single day at work. Rock that bar.
Barista craft is simple. Pull three double espressos, make three tall flat whites and make three tall caramel macchiatos. Easy enough? Did I mention you also have a huge audience of corporate partners, and people photographing and video taping you? No pressure!
Unfortunately, I was so nervous, my hands were shaking and I could not control the pitcher. I tried, but the best I could manage was a little squiggle.
I did not win the area 12 barista championship, but I did make a lot of new friends. I also got a pretty epic swag bag!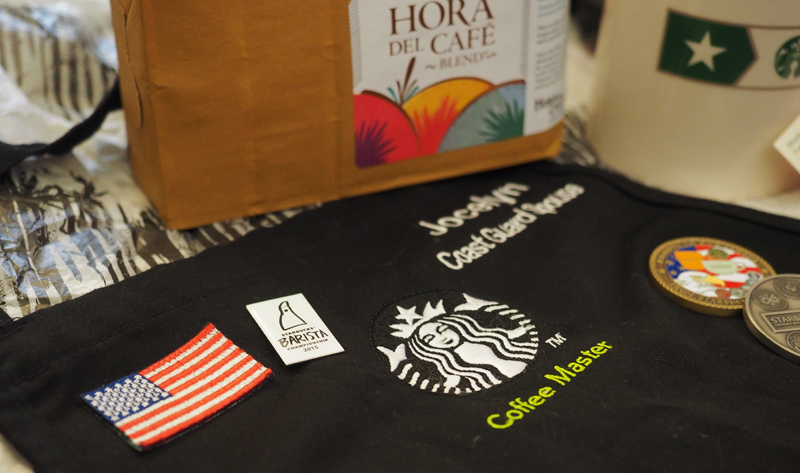 There were all kinds of great things in there, but I was so excited for the bag of Hora del Cafe blend and the pin 🙂 One of my friends brought me the roll call mug and challenge coins! I am forever grateful for this experience.. and while I may not have won this year, I am already training for next year! 😉