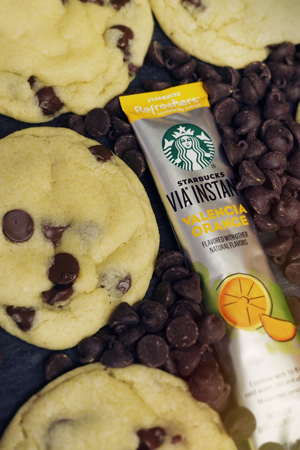 One of my most favorite things around the holidays are chocolate oranges. It is such a great flavor combination! The Valencia orange via is my favorite, and I really wanted to bake something with it. Why not cookies? Cookies are always good!
People always give me a strange look when I tell them what's in the cookies, but once you have one, you'll be hooked. I promise.


Valencia orange chocolate chip cookies
Ingredients
i package of valencia orange via
¾ cup sugar
½ cup butter
1 egg
1 teaspoon vanilla extract
1¾ cups all-purpose flour
½ teaspoon baking soda
½ teaspoon baking powder
1 cup dark chocolate chips
Instructions
preheat oven to 350. grease cookie sheets.
cream butter and orange via together until fluffy.
add sugar, egg and vanilla extract. mix until combined.
slowly add the flour, baking soda and baking powder. once fully mixed, add chocolate chips.
shape dough into balls two inches apart. bake for 12-15 minutes.