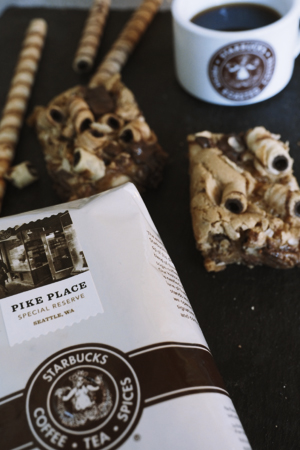 Make brownies of course!!!!!!
In all seriousness, I love the cookie straws, but I just couldn't justify buying a whole tin.. then the idea came to me.. Why not make loaded blondies, with shaved chocolate, milk and dark chocolate chips and cookie straws?! Now I had to buy the whole tin (possibly more!)

This is a great recipe that you can add just about anything to. Don't have chocolate chips? use m&m's instead. Or Oreos! Or both! Be careful not to add too much stuff in there, and yes, you can add too much.. The first batch I made wouldn't cook. they were practically raw, but I still ate them (and they were delicious)

cookie straw blondies
Recipe type:
brownies/bars
Ingredients
½ cup unsalted butter, melted
1 large egg
1 cup dark brown sugar, packed
1 tablespoon vanilla extract
1 cup all-purpose flour
10 cookie straws, coarsely chopped (reserve half for the top)
½ cup dark chocolate chips
½ cup milk chocolate chips
Instructions
Preheat oven to 350F.
Line an 8-by-8-inch baking pan with aluminum foil, spray with cooking spray; set aside.
In a large, microwave-safe bowl melt the butter, about 1 minute on high power.
Wait momentarily before adding the egg so you don't scramble it. Add the egg, brown sugar, vanilla, and whisk until smooth.
Add the flour and stir until just combined.
Stir in the cookie straws and chocolate chips
Turn batter out into prepared pan, smoothing the top lightly with a spatula.
Evenly sprinkle the remaining cookie straws over the top, lightly pressing them down with your finger
Bake for about 20 to 25 minutes. Top should be set and edges slightly firm. Allow bars to cool in pan for at least 30 minutes before serving.