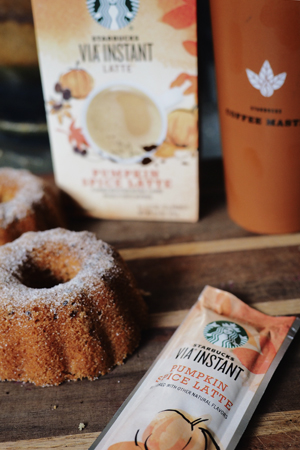 It's September, the air is starting to get crisp, the leaves are starting to change color…. and it's pumpkin spice latte time. Everything pumpkin has begun. To celebrate, I decided to make pumpkin spice latte bundt cakes! This cake is coated with cinnamon, sugar and coffee, and is made with pumpkin spice VIA. A great way to kick of the season of pumpkin.
When I first made these, I incorporated Teavana Majahara Chai, but this time around I decided to keep it simple. I love chai, but it over powered everything else. I also went light on the pumpkin flavor. You'll notice in the recipe, I only use one packet of PSL VIA. Want a more pronounced pumpkin flavor, use two! You can also add pumpkin pie spice to the topping and/or in the cake itself to really give it the essence of autumn.

pumpkin spice latte via bundt cakes
Ingredients
2 teaspoons ground cinnamon
1 teaspoon finely ground espresso roast (or a package of Italian roast VIA)
½ cup sugar
2½ cups all-purpose flour
1 teaspoon baking powder
½ teaspoon baking soda
½ teaspoon salt
1 cup unsalted butter
1 packets Starbucks Pumpkin Spice Latte VIA
1 cup sugar
1 cup light brown sugar
3 eggs
1 teaspoon vanilla extract
1 cup non-fat greek yogurt
Instructions
In a small bowl, combine ½ cup of sugar 1 teaspoon ground espresso roast and 2 teaspoons of cinnamon. Mix together and set aside.
Preheat oven to 325F. Generously spray a 9 inch Bundt pan with a nonstick baking spray. Gently dust the entire inside of the pan with the sugar/coffee/cinnamon mixture.
Sift together the flour, baking powder, baking soda and salt. Set aside.
Beat the butter on medium speed for one full minute. Add 1 packet of Starbucks Pumpkin Spice Latte VIA, beat for another 30 seconds. Add the sugar and mix until light and fluffy. Scrape down the bowl and blade and add the brown sugar and mix for about 2 minutes, or until well combined.
Add the eggs one at a time, beating each for 1 full minute. Stir in the vanilla. Add the flour mixture alternately with the greek yogurt
Spread the batter into the prepared pan.
Bake for 55 to 60 minutes, or until a toothpick inserted into the cake comes out clean. Allow to cool for 10 minutes before inverting onto a wire rack to cool completely.