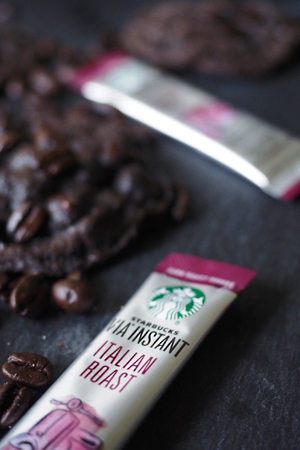 October is Fair Trade month, so I really wanted to make something to highlight our Italian Roast coffee. These cookies are loaded with Italian Roast via, and topped with whole bean Italian Roast. If you do not like chocolate or coffee, these cookies are not for you!
In the United States, Starbucks only offers one Fair Trade certified coffee, and that is currently Italian Roast. In the UK, they are offering Fair Trade Veranda and Espresso (including decaf) and online, you can still find Cafè Estima, which is still Fair Trade certified. Most markets at least offer one Fair Trade offering, and with that being said, Starbucks is one of the world's largest purchaser of certified Fair Trade coffee!
Now, let's talk about these cookies..
These cookies are serious….. The kind of cookies where people call you to tell you how good they are, and can you share the recipe.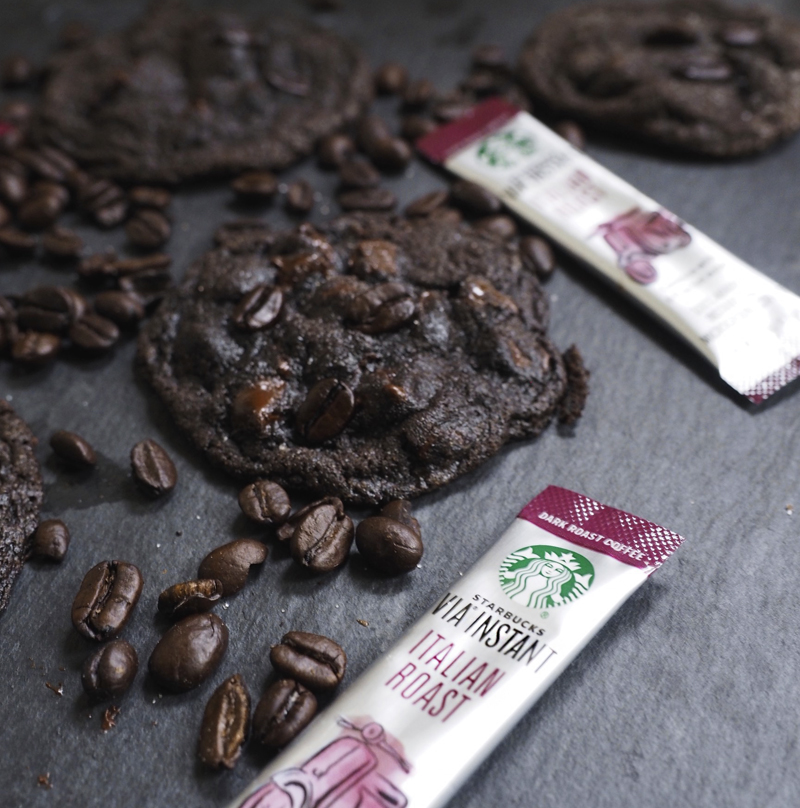 Italian Roast double chocolate chip cookies
Ingredients
1¼ cup butter, room temperature
3 sticks of Starbucks Italian Roast VIA
1 cup granulated sugar
1 cup dark brown sugar, packed
2 eggs, room temperature
2 teaspoons pure vanilla extract
2 cups all purpose flour
¾ cup dark cocoa powder
1 teaspoon baking soda
½ teaspoon salt
2 cups dark chocolate chips
sugar and Italian Roast (whole bean) for garnish
Instructions
Preheat oven to 350°.
Cream together the butter, VIA, sugar, and brown sugar until light and fluffy. Be sure to scrape down the sides.
Add the eggs, beating after each addition. Add the vanilla extract, beat until combined.
In a separate mixing bowl, whisk together the flour, cocoa powder, baking soda, and salt.
Add the dry ingredients to the wet in three additions, mixing well between each addition. Fold in chocolate chips by hand.
Cover and refrigerate dough for at least 30 minutes.
Form dough into 1-1/2 inch balls, roll in granulated sugar, then press coffee beans in the top.
Bake for 8 minutes, or until the edges just begin to crack. Let cool for 5 minutes and then transfer to a cooling rack.
Christmas is right around the corner, and these cookies would be stellar with Christmas blend VIA and topped with Christmas blend!