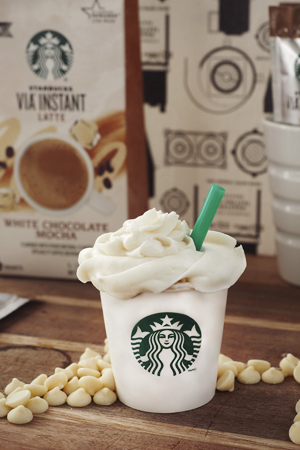 There is a new VIA latte in town – White chocolate mocha!
When I participated in the VIA innovation summit, I said I wanted to see three new types of VIA's; Sumatra, chai tea latte, and white chocolate mocha. I'm certain that my suggestion had absolutely nothing to do with this product now being available, but hey.. It's still pretty cool!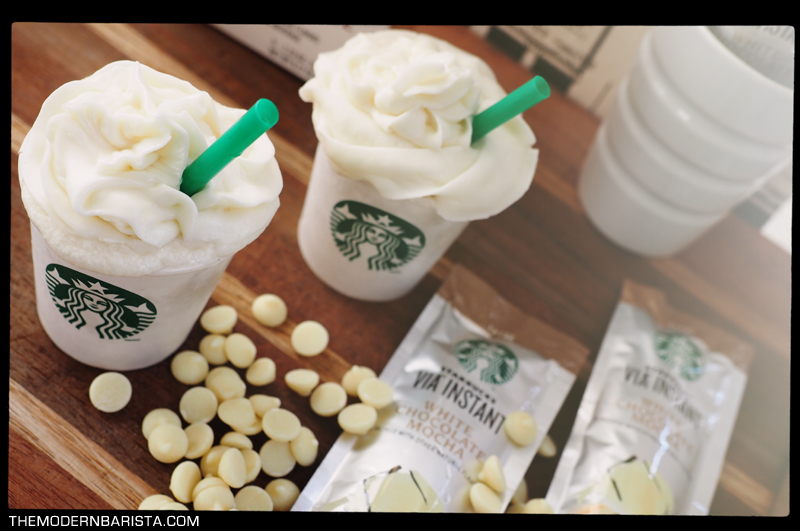 White chocolate mocha VIA latte cupcakes
Ingredients
4oz white chocolate (chips or bar)
½ cup butter, softened
1 cup sugar
1 stick Starbucks VIA Latte, white mocha flavor
2 eggs
1 teaspoon pure vanilla extract
1½ cup flour
½ teaspoon baking powder
½ teaspoon salt
¾ cup whole milk
White chocolate chips
Instructions
Preheat oven to 350 and line cupcake pan.
Over a double boiler melt white chocolate bar and set aside.
In a large bowl sift together flour, salt, and baking powder.
In a stand mixer combine butter, sugar and VIA until fluffy.
Add eggs one at a time, beat for 1 minute.
Add milk, vanilla, and melted chocolate until well combined.
Slowly incorporate dry ingredients and mix for 2-3 minutes.
Fill cupcakes ⅔ full. Sprinkle white chocolate chips on top of the batter.
Bake for 20 minutes. If baking in sample cups, increase the bake time by 2-5 minutes, depending on your oven.
White chocolate buttercream
Ingredients
1 cup butter, room temperature
4 cup powdered sugar
4 oz white chocolate
1 teaspoon pure vanilla extract
Instructions
Beat the butter on high speed about two minutes until fluffy. Add in 1 cup of powdered sugar and beat on low just until mixed. Add the melted white chocolate and vanilla. Beat on low until combined. Add the remaining powdered sugar 1 cup at a time and mix on low speed until the mixture reaches your desired consistency.