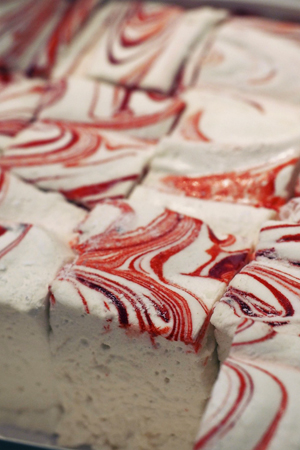 First I have to apologize for the horrible pictures. November has been keeping me very busy. I actually made these marshamallows at midnight, and cut them early the next morning before I took them to the new Teavana store in south center mall.
A few months ago, I met with Naoko, Teavana's master teaologist, and we bonded over our love of food and constant inspiration. Knowing that I was going to meet with Naoko again, I wanted to create something festive to bring her.
Teavana recently remodeled two of their Seattle area stores with a new concept. A more open floor plan, less merchandise, and a dry and wet bar. The center area has a station where you can create your own custom tea blends, something I can not wait to do! Today we were here to meet with Naoko, and have a special tea tasting of some of Teavana's new micro lot teas. We tasted the Himalayan Black and Twisted Honey Black, both are only offered at Teavana in South Center mall and Bellvue.
Naoko loved the marshmallows, and she was able to tell that I added a few drops of peppermint oil in the marshmallows to boost the minty flavor. You can leave the peppermint oil out if you desire. They are delicious either way! I personally love these marshmallows on a hot chocolate instead of whipped cream!

Teavana white chocolate peppermint marshmallows
Ingredients
3 packages unflavored gelatin
1 cup water, divided
3 tablespoons of Teavana peppermint white chocolate tea
1½ cups sugar
1 cup light corn syrup
¼ teaspoon salt
1 teaspoon pure vanilla extract
2-3 drops of peppermint extract (optional)
¼ cup confectioners'
¼ cup cornstarch
Nonstick spray
Red food coloring, optional
Instructions
Brew the tea in half of cup of water. Let brew for about 5 minutes, and then place in the freezer to chill quickly.
Place the gelatin into the bowl of a stand mixer along with ½ cup of tea concentrate. Have the whisk attachment standing by.
In a small saucepan combine the remaining ½ cup water, granulated sugar, corn syrup and salt. Place over medium high heat, cover and allow to cook for 3 to 4 minutes.
Uncover, clip a candy thermometer onto the side of the pan and continue to cook until the mixture reaches 240 degrees F, approximately 7 to 8 minutes. Once the mixture reaches this temperature, immediately remove from the heat. Turn the mixer on low speed and, while running, slowly pour the sugar syrup down the side of the bowl into the gelatin mixture.
Once you have added all of the syrup, increase the speed to high. Continue to whip until the mixture becomes very thick and is lukewarm, approximately 12 to 15 minutes. Add the vanilla and peppermint extract during the last minute of whipping. While the mixture is whipping prepare the pans as follows. Combine the confectioners' sugar and cornstarch in a small bowl.
Lightly spray a 13 by 9-inch metal baking pan with nonstick cooking spray. Add the sugar and cornstarch mixture and move around to completely coat the bottom and sides of the pan. Return the remaining mixture to the bowl for later use. When ready, pour the mixture into the prepared pan, using a lightly oiled spatula for spreading evenly into the pan.
To achieve the red swirl pattern, drop a few drops of red food coloring on top of the marshmallows and swirl together with a knife. Dust the top with enough of the remaining sugar and cornstarch mixture to lightly cover. Reserve the rest for later. Allow the marshmallows to sit uncovered for at least 4 hours and up to overnight. Turn the marshmallows out onto a cutting board and cut into 1-inch squares using a pizza wheel dusted with the confectioners' sugar mixture.
Once cut, lightly dust all sides of each marshmallow with the remaining mixture, using additional if necessary. Store in an airtight container for up to 3 weeks.
Notes
recipe adapted from Alton Brown <3
If you would like to see more pictures and more about our experience, pop on over to Starbucks Melody and read her article!
I actually cook with tea quite a bit, and as free time allows, I will be adding more Teavana/Tazo recipes to the archive, so please keep checking back 🙂