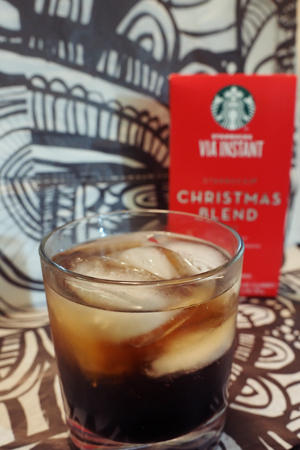 I created this recipe in 2013 using Italia Roast Via, but once I got my hands on this years Christmas blend, I knew I wanted to re-create it.
I love coffee cocktails, my favorite being a black russian, so making a homemade kahlúa was an obvious choice. I also use kahlúa in quite a bit of my dessert recipes, so it has become a staple in my kitchen. Bottles of homemade kahlúa also make a great hostess gift!
Because this recipe uses Starbucks Via, this recipe is quick and easy. You can use any type of Via you'd like, but Italian is my go to, but the Christmas blend is so delightful 🙂
One of the reasons I like making my own liqueurs is that I know exactly what goes in it. You aren't going to get a high quality end result if you don't start with high quality ingredients. That is why the coffee and the vodka selection is so important. My favorite vodka is Reyka, so I always use that.
Christmas blend is a blend of Latin American and Asia Pacific beans, including aged Sumatra. These rare beans bring a sweet spicy note to the coffee. This years blend of Christmas blend is actually my favorite of all time. It's dark, it's sweet, it's spicy. This is the coffee I wait for all year long!
These photos are from my first experiment using Via to make kahlúa, I think this was in 2012. Italian Roast or Christmas blend, both make a stellar kahlúa, and amazing cocktails!

homemade kahlúa using Starbucks VIA
Ingredients
1 quart water
2½ cups sugar
8 packages of starbcuks VIA (christmas blend or Italian roast)
1 tablespoon vanilla
2½ cups (good quality) vodka (I use Reyka)
Instructions
Boil water, coffee and sugar. Just as it boils, turn down heat to medium low and simmer for 2 hours (stirring occassionally). After two hours, you should have a syrup that coats the back of your spoon.
Let cool and add vanilla and vodka.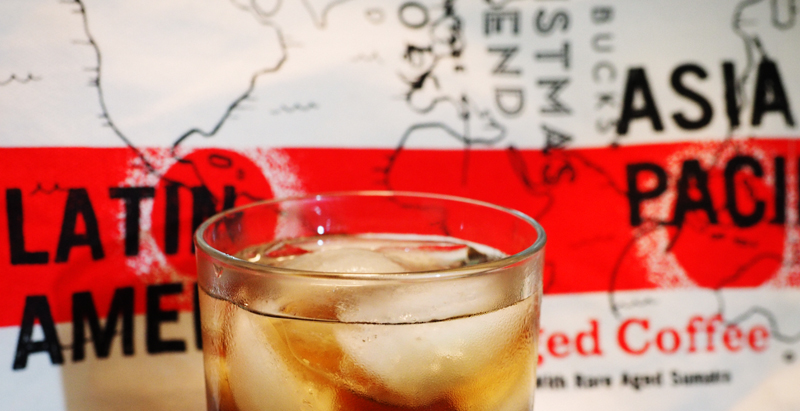 Black Russian
Instructions
Pour both ingredients into a mixing glass filled with ice. Stir, and strain into an old fashioned glass filled with fresh ice. (This recipe renders a fairly dry version of the drink. You can use more Kahlúa and less vodka to make a sweeter version.)
The black Russian is a bar staple, but it is also a blank canvas. Want to add a different flavor profile? Add different ingredients!
White Russian, same as the black russian, but topped off with a splash of heavy cream.
Want even more of a coffee kick? Substitute vodka with espresso flavored vodka.
To highlight the Latin American flavors in the coffee, add a splash of Frangelico for a hint of nuttiness.
What are your favorite variations of this classic cocktail? let me know in the comments!