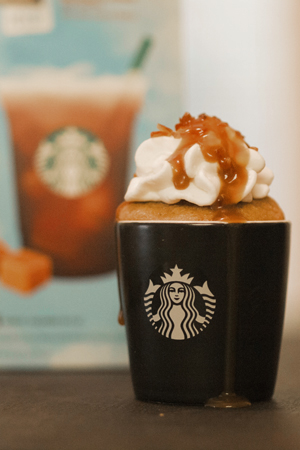 According to my facebook memories, three years ago today… we had just transferred to Washington, and I was missing work, missing making frappuccinos, so to ease my mind until my transfer went through, I made these frappuccino inspired cupcakes. It's crazy to me that three years later, we have now transferred to Michigan, and I'm feeling the exact same way!
Since we are still  in the process of moving in and getting our kitchen in order, I thought I'd post this "throwback" recipe.
I haven't seen the caramel Iced coffee VIA in stores this year, but I have seen them in grocery stores and online. If you can't get the caramel iced VIA, you can use the regular iced VIA flavor, and add a few tablespoons of the caramel syrup to give it that true CRCF flavor 😉

Now to assemble the cupcakes.. using a knife, cut a small hole in the top of the cupcake. then fill with dark caramel sauce. frost cupcake with icing, top with caramel crunchies and more caramel sauce if desired.
I know there are a lot of steps and a lot of components to these cupcakes, but they are worth it! In this recipe, I have recommended only one stick of iced VIA. I personally prefer 2 sticks in this recipe, as it creates a more "coffee forward" flavor. If you want more coffee flavor, add an extra stick!
You might notice that my cupcakes are served in demitasse cups instead of cupcake liners. Centuries ago, when muffin tins might not have been available, bakers baked cakes into pottery cups or ramekins You can use cupcake tins if you'd like, but sometimes I find it fun to bake cupcakes in all different sorts of cups! Using demitasse is my favorite. It makes an excellent gift! Here's a cupcake and you can keep the cup! 🙂
We are still settling into our new house, and I am having to relearn my kitchen. My kitchen here is much bigger, the pantry is as big as the bedroom, but the oven and I are not getting along. I was told it runs "hot". Imagine my surprise when I went to cook dinner the first night, set the oven for 350, and the thermometer I stuck inside read 500…… Quite the opposite of our oven in Washington, which would just randomly turn off. It's always an adventure 🙂