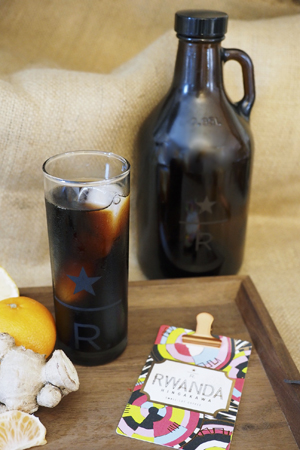 We are officially in Michigan and in our new house. As soon as we got here, I was asked if I could do a coffee tasting for the district meeting. Of course I said, yes, but internally I was wondering what on earth I was going to make. I happened to have a few bags of Rwanda Hingakawa from the Roastery and a coffee sock, so cold brew it was!
I decided to take it up a notch, and make a simple syrup to pair with the coffee. With how easy and popular making cold brew at home is becoming, I wanted to demonstrate how easy it was to make your own custom flavored syrup. You could go in almost any direction, but for the Rwanda Hingakawa, I chose a mandarin orange-ginger simple syrup.
The women that make up Hinga Kawa, are part of the Abakundakawa coffee cooperative. This was formed in 2004 due to a strong womens movement, and became the first womens farmer association of it's kind in Rwanda. Abakundakawa translates to 'those who love coffee', Hingakawa means 'let's grow coffee' and the other association that makes up Abakundakawa, Dakundakawa means 'we love coffee'. The genocide in Rwanda in 1994 that arose from ethnic conflict created many widows. Instead of letting those differences create further division, these women found a path forward through coffee. One that embraces reconciliation, revitalization and redemption that has resulted from women recognizing their shared pain in humanity above all else.
'Hingakawa' is a mantra, or a chant.. Let's grow coffee.. a product of patience, care and love.
Rwanda Hingakawa is a washed coffee with a light body, medium acidity with complex floral notes. In this cup, you'll find flavors of mandarin orange, gingersnap, clove, peach, honey and melon.
Since I am in a new market, and a district that does not have reserve coffee, i really wanted to start off with a "roastery on the road" type tasting. Bringing the spirit and energy of the roastery, along with stuff that you would find there. Starbucks reserve embossed trays, metal scoops, a roastery map, and my Hardmill roastery apron.
I decided to serve the Hingakawa two ways; via pour over and cold brew. Both methods we use in the store, and can be made at home too. Since at home cold brew is a big focus for our customers, I wanted to get the wheels turning about how cold brew can be more personalized at home!
Making simple syrup is easy. All you need is equal parts sugar and water, and if you are adding a flavor, that will come towards the end. In this case, I only made a small batch of the syrup, feel free to adjust the amounts as needed. The syrup will keep for about 2 weeks if kept in the refrigerator.

mandarin-ginger simple syrup
Ingredients
¼ cup sugar
¼ cup water
i knob of ginger, finely chopped
1 mandarin orange, zested and peeled
3 cloves (optional)
Instructions
In a heavy bottomed sauce pan, heat the sugar and water until dissolved. Once sugar is completely dissolved, remove from heat add the mandarin zest, flesh, ginger and cloves (if using).
Let steep in the saucepan for 10 minutes, then strain and transfer to a mason jar.
I personally like clove, but I find the flavor can be very polarizing to people. I encourage you to try it with the cloves. It gives a great aromatic quality to the syrup.
Once you have made your syrup, simple add to the cold brew to your liking!
All of my cool Roastery swag was purchased at the Roastery, but you can buy the
growler
 and the
coffee sock
on the StarbucksStore! 🙂