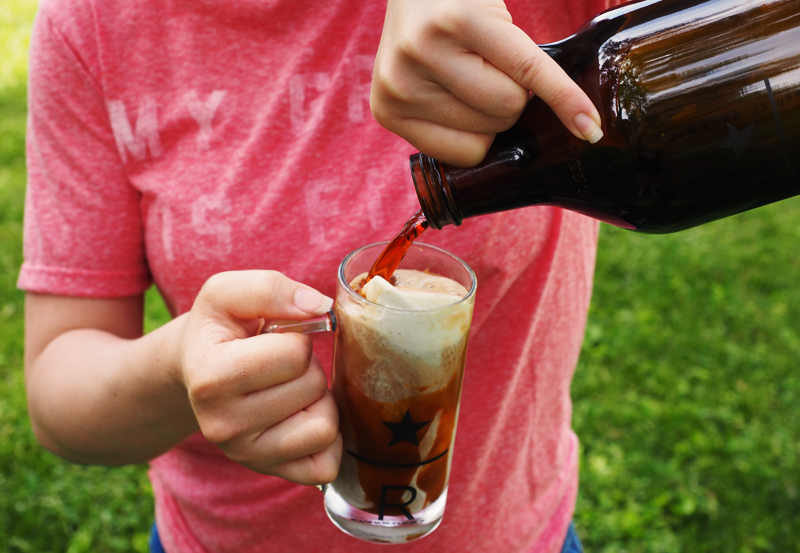 With the fourth of July right around the corner, and the phenomenal (read: hot) weather we are having here, I am ready for cold brew floats! Last year I made one with coffee and cola and Vietnam da Lat, but this time around I wanted to highlight our Espresso Roast. All month I have been making batches of cold brew using espresso roast, and I have to say, it is my new favorite. It's dense, rich, slightly sweet and so smooth. 
If you've never made cold brew at home before, it is so easy! The best thing about making cold brew is that it is very forgiving, and it's hard to mess up. I stick to a basic 1:4 ratio. 1 cup ground coffee (coarse grind) to 4 cups cool water. You can make adjustments as you see fit. I use a mason jar with a coffee sock, but you can use any vessel, and strain the grounds out with a cheese cloth, or you can even use your french press! Let the coffee steep for about 16 hours in a cool, dark place.
The choice of what ice cream to use was critical. I chose Talenti's Tahitian Vanilla Bean gelato simply because it is my favorite! The flavors are so clean and fresh, and it creates the perfect stage for the caramel sauce and espresso roast.
Get Creative!
You can use any flavor of ice cream, I toyed with the idea of using a coffee flavored ice cream, but I wanted to keep it simple and classic this time around.
The great thing about a coffee float is that there are so many, endless really, possible combinations of flavors! You can go down the citrus path, or chocolate, or even mint! (Espresso and mint is one of my all time favorite flavor pairings!)
To make this cold brew float, generously spoon caramel sauce in the bottom of a glass. Add one or two scoops of Talenti Tahitian Vanilla Bean gelato (I actually added more caramel sauce on top of the ice cream!) Slowly pour your cold brew on top of the ice cream. Top with finely ground espresso powder and/or add a shot of espresso to make an affogato. Affogato (Italian for drowned) is a coffee based dessert with a shot of espresso (hot) poured over ice cream or gelato.

Quick & easy caramel sauce
Ingredients
½ cup sugar
3 T unsalted butter, cubed and at room temperature
¼ cup heavy cream at room temperature
generous pinch of salt
Instructions
Pour sugar into an even layer in a large saucepan. Heat on medium-high heat, whisking the sugar until melted. The sugar will clump up first, but will eventually completely melt.
Once the sugar has melted (10 minutes or so) , stop whisking and allow to cook until the sugar has turned to a little darker amber color.
Add butter and salt. Whisk until combined. Slowly pour the heavy cream into the caramel and whisk until incorporated. Pour into 4 ounce mason jar & let cool.
What are some fun flavor ideas you have for a cold brew float?