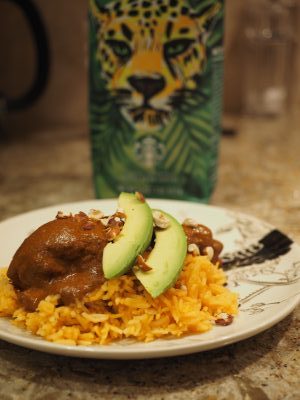 Tomorrow is National Coffee day, and I really wanted to highlight the return of México Chiapas in a serious way. What better way to honor a coffee and the many hands it has passed through than making a feast?
Food is culturally something that connects people, and I wanted to create something that could be a communal experience. It is said that there are two things that people want to do together; laugh and eat. So gather your friends, put down your phones, and share an incredible meal with an incredible cup of coffee.
As some of you may know, my dad just passed away, and being here with family, sharing these meals, sharing stories and creating new memories really made me remember how special these moments are.
Starbucks is celebrating National Coffee day in a huge way. Continuing our One Tree for every bag commitment, for each cup of brewed Mexico Chiapas on the 29th, Starbucks will donate a coffee tree. This initiative will bring us closer to our goal of donating 20 million coffee trees this year. Starbucks has been sourcing coffee from Chiapas since 2002, and will be receiving coffee trees that have been donated via One Tree for Every Bag. You can read more about One Tree for Every Bag here.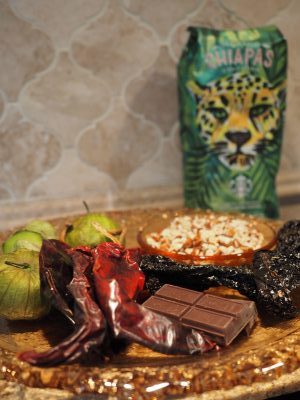 I absolutely love the artwork on this bag. Jaguars hunt in the dense forests of Sierra Madre de Chiapas, so it is fitting that a jaguar is front and center on the bag. Since I am a crazy cat lady, this makes me very happy.
Mexico Chiapas is bright and crisp with flavors of cocoa and roasted nuts. I have been hooked on this coffee for a few weeks now, drinking a French press (by myself) every day. In fact, I am imbibing as I type this.
Mexico Chiapas has a high acidity, medium body and quite a bit of tang with it. While this pairing is drawing out the cocoa and nutty qualities of this coffee, I also love pairing this coffee with oranges and bananas for a simple breakfast treat.
Mexico Chiapas with chocolate hazelnut chicken mole
Ingredients
1 plum tomato
3 tomatillos
1 yellow onion
3 garlic cloves
3 dried mulato chiles
4 dried guajillo chiles
2 dried pasila chilies
1 can chipotle peppers in adobo sauce
3 T raisins
3 T sesame seeds
1 cup toasted hazelnuts
1 T Mexico Chiapas whole bean coffee
1 t cinnamon
3 whole cloves
4 allspice berries
½ t coriander seeds
¼ t black peppercorns
3 oz Mexican chocolate, or very dark chocolate
3 cups chicken broth* recipe below
salt to taste



Chicken & broth
10 cups water
10 chicken drumsticks
2 carrots
1 yellow onion
3 celery stalks
2 bay leaves
½ T whole black peppercorns
salt to taste


Serve with (optional)
avocado, sliced
toasted hazelnuts
rice
Instructions
Prepare the chicken broth: Chop the carrots, celery and onion, and throw in a large pot with the rest of the broth spices and chicken drumsticks. Bring to a boil, then reduce the heat to low, and simmer for 40-45 minutes.
While the chicken is cooking, prepare the chiles: Slice the dry chiles open, and remove the stems, veins and seeds. Pour hot water over them until completely covered, add the raisins, and leave to soak for 30 minutes.
While the chiles are soaking, prepare the veggies: Roughly chop the onion, tomatoes and tomatillos, mix with 2 tbs of olive oil, and salt, and broil at 500 °F. After 10 minutes, throw in the unpeeled garlic cloves as well, and continue to broil for another 10 minutes or until veggies are nicely charred.
While the veggies are roasting, prepare the nuts and spices: In a dry skillet, toast the whole spices - cloves, allspice, black peppercorns, coriander seeds, sesame seeds - for 2-3 minutes. Transfer to a spice mill, and whole bean coffee and grind.
Grind the hazelnuts in a food processor until they resemble a fine meal (but before they turn into butter).
Drain the chiles, and raisins, and transfer to a blender.
Take the veggies from the oven, peel the garlic, and add to the blender.
Add to the blender: half a can of the chipotle pepper (reserve the can for the rice, if making), the ground cinnamon, the ground hazelnuts, ground spices and sesame seeds, and 2 cups of the chicken broth. Blend until smooth.
Heat 2 T of olive oil in a deep stove pot, and add the sauce and 1 cup of the chicken broth. Cook for a few minutes, stirring continuously, and drop the chopped dark chocolate. Stir until completely melted.
Transfer the chicken drumsticks to the sauce, and cook for another 10 minutes on low heat. If needed, add more chicken broth.
Serve with chopped hazelnuts, sliced avocado, or a bowl of rice.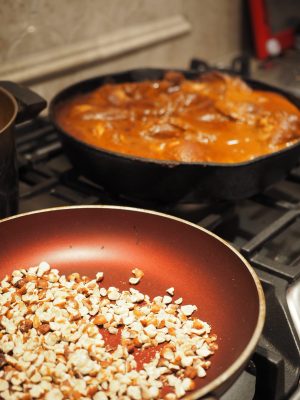 PS: Typing blog articles here is challenging. No photoshop either. I'll edit this when I get home 🙂