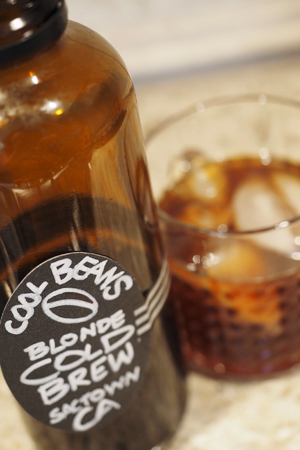 Over the past year I have been having so much fun with this blog, and connecting with partners all over the world. Something that I have been thinking about is having 'guest bloggers', coffee masters contributing their recipes and pairings. The idea that this blog, eventually, become a hub for coffee masters. Several months ago, one of my friends, Michelle, came up with a custom cold brew blend named cool beans, cold brew. Michelle is a talented artist and coffee master, so I knew she would be perfect to be the first guest blogger here.
And then life happened. To both of us. Michelle had some issues to deal with, and then suddenly I had to fly to California to be with my family. Coincidently, Michelle lives in Sacramento, which is very close to where my family lives, so instead of having a guest blogger, we got together and drank coffee together!
Michelle picked me up at my parents house, and we then went to her house to bottle her custom cold brew. I was blown away at her attention to detail. The bottles she collected and saved, the labels she made, right down to the matching serving dishes for the cookies. It was incredible.
We then travelled to Starbucks on Alhambra and N street in Sacramento, where one of our mutual friends works. We basically had a fun instagram meet up! Michelle put together a beautiful setup with her custom bottles. We paired the cold brew with vanilla jojo's from Trader Joes.
Cool Beans Cold Brew is a blonde cold brew comprised of Starbucks Willow blend and Guatemala Antigua. It is light and complex, and I found that it paired very well with the vanilla jojo's! Michelle gave me a ground packet to take home with me. I made the cold brew in a french press, and stuck it in the fridge. The next day, my brother came over and raided the fridge. He said "This cold brew is on point!" I don't think I can come up with a better endorsement that that. Try it for yourself, and let me know 🙂

Cool beans Cold brew
Cool Beans Cold Brew A blonde cold brew blend
Ingredients
Measuring for a French Press:
.10 Willow
.02 Guatemala Antigua
Instructions
Grind for French Press
Steep in filtered H2O for 20 hours
Press and transfer to sealable glass container
Keep in the fridge up to 3 days
Thank you so much to my pals Michelle and Remy, and all of the partners of Alhambra & N, who put up with us! 😉 If you want to guest blog, please
send me a message
!