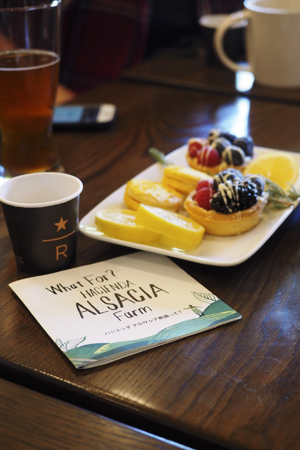 I really wanted to do something special on National coffee day. Since I was in Sacramento, I made some vague plans with some friends to meet up at an evenings store to try the new Espresso Cloud IPA. As luck would have it, the third crop of Hacienda Alsacia was recently released in Japan, and one of my friends came to my rescue and sent me a bag.
This coffee has travelled the globe. From Costa Rica to Seattle, to Japan, to California. These are very special beans, and I couldn't think of a better way to celebrate them. A group of coffee masters getting together and talking about our shared passion and our love for the craft.
In 2013, Starbucks purchased its first farm, Hacienda Alsacia. The first crop was released in 2014, at the District Manager summit in Seattle, and then later distributed to every store partner. The second crop arrived in 2015 at the Roastery, and was also a component in the 2015 Starbucks Reserve Christmas blend. The third crop has (so far) only been released in Japan, but is also returning in the 2016 Starbucks Reserve Christmas blend. I have been fortunate enough to try this coffee each time it has been released, and have totally fallen in love with this coffee. With its sparkling acidity and delicate floral notes. Crisp and clean with flavors of lemon and lavender, this coffee, the product of our first farm, is spectacular.
I paired this coffee with piña colada macarons and a lemon tart topped with berries. I foraged lavender and fresh herbs from my moms front yard, picked meyer lemons from her tree and brought all of this to the evening store on East Roseville Parkway in Roseville, California. A huge thank you to the partners at this store who so graciously let us reorganize the lobby to fit our large group 🙂
We had this coffee brewed on the clover. I personally loved this coffee when paired with the piña colada macaron. The layers of tropical flavors brought a new level of sweetness and vibrancy to the coffee. Several of my other partners commented on the juiciness and the sparkling acidity.
Also on national coffee day, Starbucks evening stores launched a new drink! The espresso cloud IPA is the unexpected combination of espresso and craft beer. Shots of espresso are shaken, combined with vanilla syrup and orange wedges to create this thick foam, which is then added to the top of the beer. A shot of espresso is also added to create a waterfall effect. (it is a very photogenic beverage)
I will be very honest.. I was scared of this drink. Beer and coffee, with oranges and vanilla. It does not sounds good, however, I was pleasantly surprised.. this drink was DELICIOUS! We may have even ordered two…..  🙂
Thank you Sacramento partners for creating such an amazing culture around coffee! I can't wait to come back!
PS: my varietal tshirt is from Lineage Roasters! <3