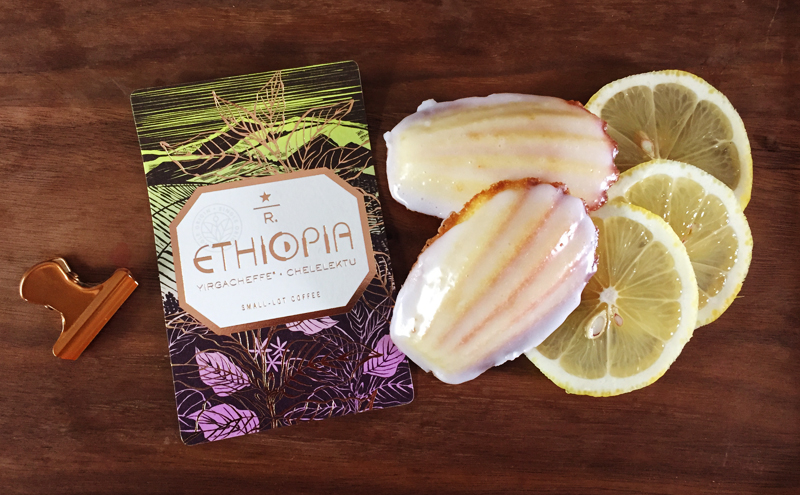 Have you ever been asked to do a coffee tasting and have no idea what to do? That was me this week. I was asked to prepare a coffee tasting for an upcoming district meeting, and couldn't come up with anything. It didn't help that it was short notice, and I have been working every day since Thanksgiving. My mind was completely wiped out. I decided to go back to basics, and selected the Ethiopia Yirgacheffe Chelelektu. This is a fully washed coffee and it is an heirloom varietal. These beans are descendants from the original coffee trees, so what better way to kick off a meeting than with a tasting of coffee history.
Now, because this was extremely short notice (3 days) I really wanted to make something that was simple and focused on a few fresh ingredients. Madeleines are easy to make, and you probably have everything you need to make them in your pantry already. I had a bunch of fresh lemons and dried lavender, two flavors that really compliment this coffee very well.
Ethiopia Yirgacheffe Chelelektu is a fully washed coffee with a medium body and a medium acidity. It has floral aromas of jasmine and lavender, a sweet lemon acidity and bergamot spice notes. Once this coffee cools, the lemon notes become very pronounced and sweet.
To make madeleines, you probably have everything in your pantry to make them. The only special equipment you need is a madeleine pan. It is a uni-tasker, but it is a necessity to make these cookies, and my partners love madeleines, so I make them a lot 🙂 You can buy one on Amazon for $12. Not bad. 🙂

Lemon & lavender madeleines
Ingredients
2 large eggs, room temperature
⅓ cup granulated sugar
¼ teaspoon of salt
½ teaspoon of vanilla extract
¼ teaspoon of almond extract
½ cup all-purpose flour
1 teaspoon baking powder
1 tablespoon lemon juice
zest from one lemon
½ stick of unsalted butter, plus more for greasing the pan*
for the glaze
1 tablespoons of dried lavender (culinary grade)
⅓ cup of whole milk
1¼ cup confectioners' sugar
Instructions
Melt butter, then set aside to cool. Preheat oven to 375.
Prepare the madeleine pan by brushing melted butter into the molds with a pastry brush. Dust the molds with flour, tap to rid excess flour. Or you can use a cooking spray with flour. I have better results using Pam for baking.*
Combine eggs, sugar, and salt with a standing mixer with a whisk attachment. Beat on medium-high speed until thick and pale, around 5 minutes. Combine the flour and baking powder in a small bowl.
Beat in the vanilla and almond extracts. On a low speed sprinkle in the flour mixture until combined.
With a spatula fold in the lemon juice, lemon zest, and melted butter. Using a small scoop or spoon, fill the madeleine cavities with batter.
Bake for 8-10 minutes or until the tops of the madeleines spring back when touched. Transfer the madeleines to a wire rack to cool by inverting the pan. Let cool for 10 minutes.
To make the glaze, bring the milk and lavender to a boil in a small saucepan. Remove from heat and allow to sit for 10 minutes then strain the lavender buds. Stir in the confectioner's sugar until smooth.
Dip the madeleines into the glaze and allow to set on a wire rack. Garnish with dried lavender buds if desired.
For my tasting, I also assembled two aroma boards. Some partners might remember the old aroma labs from an earlier coffee master kit. Those were such a great resource and useful tool, I wanted to bring that to my tasting as well. I sliced a lemon, and flanked it with dried lavender and Teavana Earl Grey tea. This coffee has outstanding flavors of lemon, lavender and bergamot, so the inclusion of the earl grey was spot on.
Another reason I wanted to focus on the aroma boards, as creating a visual impact. For me, I find a coffee tasting to be more memorable and inspiring when all of my senses are engaged. The old saying "you eat with your eyes first" is something I carry with me to each coffee tasting. Carefully and thoughtfully planning small details, being able to touch dried lavender or the tea leaves, you are creating a memory for your audience.