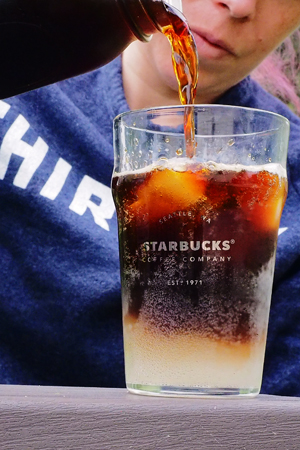 Last year I wrote about the Starbucks Shandy, and it is probably my most popular article to date! The shandy is one of those polarizing drinks; you either love it or hate it. Since it's starting to heat up here (finally) I wanted to make a new version of the Starbucks Shandy.
Earlier this week I was asked to do a coffee tasting for our area open forum. They estimated about 300 people attending the tasting, so doing a manual brew method was out. I quickly decided on doing a cold brew, but I wanted to do something a bit more memorable. I was getting ready for work at 4am, and it hit me. Why not do a cold brew with the blonde espresso? I got the cold brew going and went to work.
When I got to work, I got some bad news…. Due to potential conflicts surrounding barista championships, it was decided that I shouldn't do the coffee tasting. Part of me was relieved, because a coffee tasting for 300 people in insane, but part of me was also pretty sad. This is what I love to do, but I totally understand and respect the decisions of my leadership. That's one of the reasons I have this blog, so I can do a tasting and connect to a larger audience. This is also good motivation for me to win the area barista championships. 🙂
If you're friends with me on facebook, you might have seen my yellow themed workflow picture. For this shandy, I really wanted to bring the feeling of summer with bright flavors and colors.
In my previous post, I used plain lemonade. This is something that every Starbucks store has, so it can easily be made in the store. Recently, I have noticed more and more Starbucks stocking San Pellegrino waters. The combination of the sweet cold brewed blonde espresso and the zesty San Pellegrino Limonata is a home run. It is bright, sweet, fizzy and perfectly refreshing.
To make a Starbucks shandy, simply pack a glass with ice. Fill half way with San Pellegrino Limonata, and the other half with cold brewed blonde espresso.
Pair with lemon flavored oreos, lemonheads, lemon jolly ranchers and fresh lemon slices!