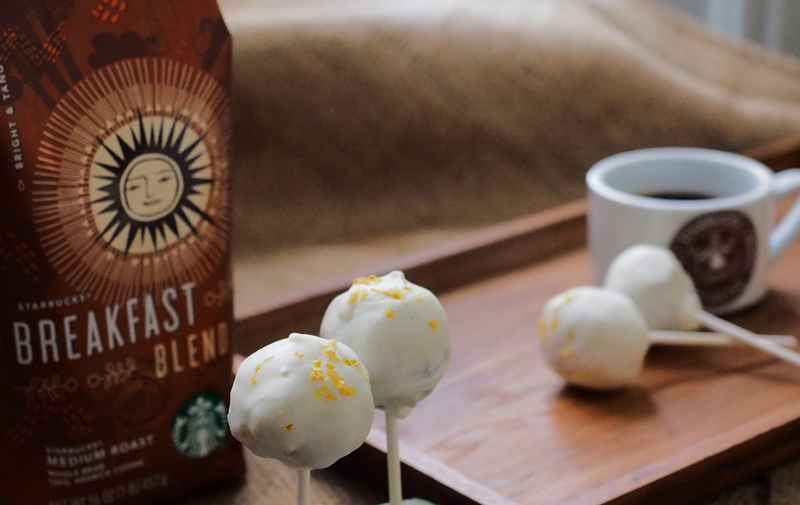 I might have started something when I brought those banana bread cake pops into work a few weeks ago. Now partners are coming up with new ideas for coffee and cake pops, and you know I am all about that! Breakfast blend paired with a blueberry muffin is so good, so why not turn a blueberry muffin into a cake pop?
Breakfast Blend was introduced to the Starbucks line up in 1998. Before that, our House blend was the lightest roast we carried! Breakfast Blend was part of the Milder Dimension coffees. There were three; Breakfast blend, Lightnote blend and Serenade blend.
Nearly 20 years later, Breakfast blend is no longer our lightest roast. It is classified as a medium, crisp and tangy with a high acidity that dances on your tongue. This coffee is a pre-roast blend of washed coffees from Latin America, and pairs well with blueberries, apples, lemon and nuts.
Blueberry muffin cake pops
Ingredients
1 3⁄4 cups all-purpose flour
1⁄2 cup sugar
2 tablespoons sugar
2 teaspoons baking powder
1⁄4 teaspoon kosher salt
2 teaspoons lemon zest, grated
1 large egg
1 cup whole milk
4 tablespoons butter, softened
1 teaspoon pure vanilla extract
1 1⁄2 cups blueberries
½ cup cream cheese frosting or cream cheese.
white chocolate plus more lemon zest for garnish.
Instructions
Preheat oven to 400. Prepare a loaf pan with nonstick spray.
In a large bowl combine flour, sugar, baking powder, salt and lemon zest.
In a small bowl beat egg, milk, butter and vanilla.
Pour egg mixture into dry ingredients and stir just until flour is moistened (batter will be lumpy). Fold in blueberries.
Pour batter into loaf pan and bake for 20-22 minutes, until the top is golden brown.
Remove from oven and allow to cool. Cut the loaf into small squares and put in a medium sized bowl. (i like to cut the edges/top off for a smoother texture).
Mix frosting or cream cheese with your hands until combined. A little goes a long way, I only used a large spoonful of the frosting and found that to be enough. I prefer using canned cream cheese frosting (I know..) because it is delicious.
Form into small balls and place on a cookie sheet. Cover and freeze for several hours, or overnight.
Now you are ready to make your cake pops! I recommend using a styrofoam block to help hold the cake pops to dry.
Using a double boiler, melt 2 ounces the white chocolate.
Dip the tip of the cake pop sticks into the chocolate and insert into the cake balls about half-way.
Freeze for about 20 minutes.
Melt the remaining chocolate and transfer to a large cup. Make sure you have enough chocolate to completely submerge the cake ball.
Remove cake balls from freezer.
Dip cake balls carefully into the chocolate until covered.
Let the excess chocolate drip off. Swirl and tap gently if needed.
Add the lemon zest while the chocolate is still wet.
Stick the decorated cake pop into a styrofoam block to finish setting.
Place into the freezer to speed up setting time.
Notes
If you don't want to bake from scratch, you can use a box mix too. Just follow the baking instructions on the package to bake the cake.