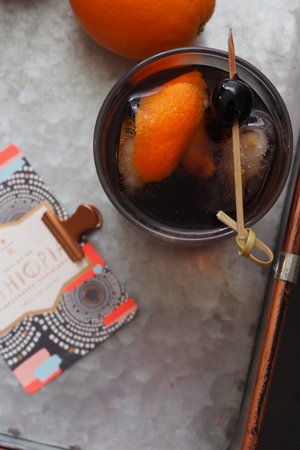 One of my friends was throwing a surprise party for her store manager, and she asked me if I could make a coffee mocktail to serve at the party. Doing stuff like this is right up my alley! Originally I had planned on doing the mint julep, but I had a few bags of the sun-dried Ethiopia Yirgacheffe Chelelektu, and I really wanted to do a play on an old fashioned.
Combining cold brewed Sun Dried Ethiopia Yirgacheffe Chelelektu, cherry bitters and an orange peel syrup, topped with a luxardo cherry. Introducing the Cold Fashioned.
Ethiopia Yirgacheffe Chelelektu was offered in both washed and sun dried this year. It was really interesting to taste these two coffees side by side. The washed version has floral notes of lavender and lemon, and the sun dried has bright red fruit flavors and tropical papaya notes. We currently have four partners going through the coffee master program, so doing comparison tastings like this really help shape knowledge around processing methods. I loved the washed coffee prepared hot in a chemex, but, hands down, the sun dried one prepared as a cold brew is amazing. It is bursting with fruit flavors, and was the perfect choice to make a fun coffee mocktail.
mock·tail
a nonalcoholic drink consisting of a mixture of fruit juices or other soft drinks.
To make this, of course you will need to make some cold brew! I use a 1:4 ratio. 1 cup ground coffee to 4 cups filtered water. Let brew at ambient temperature for 16 hours and then filter. There are many other ways you can make cold brew, but this is my go to recipe for a small batch. If you don't have the Chelelektu, Kenya or Ethiopia (core) would also be great choices.
You'll also need a few large oranges, a bottle of cherry bitters and a jar of luxardo cherries.

orange peel simple syrup
Ingredients
½ cup water
½ cup sugar
peel from one orange
Instructions
in a small sauce pan, dissolve the sugar and the water over medium heat. Using a vegetable peeler, peel the orange, trying to get just the outer skin and not the pith. Add the peel to the pan, and continue to cook for about 5-8 minutes. Remove from heat and let sit for 15 minutes before straining.
Store in an airtight jar or squeeze bottle. Best is used within a week.
To build the mocktail combine a tablespoon or so of the orange peel syrup and 3 dashes of cherry bitters. Fill cup with ice and top with cold brew. Garnish with a luxardo cherry and an orange peel.