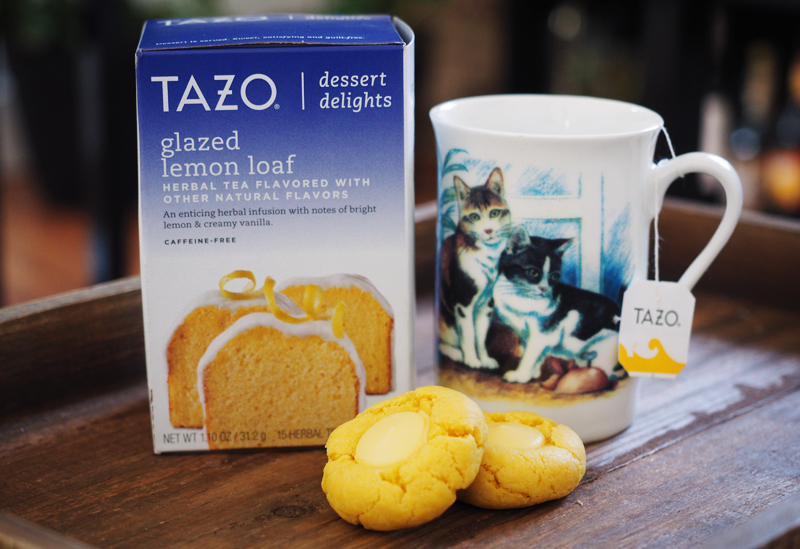 First things first, I apologize for my absence on social media. My life has been turned upside down, and with work, moving, and everything else, I just haven't been in a creative space. Everyday, I am getting stronger and feeling more inspired, but right now I need to take time for myself to heal.
When life hands you lemon loaf, dig in.
Anyways, I was at Target earlier today, and they had a huge display of Tazo teas, including the new dessert line of teas. There are three, vanilla bean macaron, butterscotch blondie and glazed lemon loaf. I absolutely had to get the lemon loaf tea, and for the first time in a while, I really wanted to make cookies. So that's exactly what I did.
This is a green rooibos tea with lemon, green apple and chamomile. The creamy vanilla notes make this a perfect compliment to these lemon drop cookies. Instead of using lemon curd, I decided to use lemon chocolate melts, which add a creamy texture.

Tazo glazed lemon loaf tea with lemon thumbprint cookies
Ingredients
1¼ c. all purpose flour
¼ tsp baking powder
⅛ tsp kosher salt
½ c. unsalted butter, room temperature
¼ c. powdered sugar
2 Tbsp granulated sugar
Zest of 1 large lemon
Juice of ½ lemon
Instructions
Preheat the oven to 375 degrees F.
In a medium mixing bowl, combine flour, baking powder, salt, and whisk to combine, set aside.
In bowl of stand mixer, combine butter and powdered sugar. Beat on medium until creamy and smooth.In a small bowl, rub the sugar and lemon zest together. Add to the butter mixture. Blend until smooth. Add the lemon juice and beat until well combined.
Turn mixer to low, and slowly add in the dry ingredients.
Turn the mixer up to medium speed and mix until flour mixture is combined. Chill the dough for about 30 minutes.
Roll the cookie dough into little balls, about a Tablespoon or so of dough per cookie. Place the cookies on a baking sheet that has been lined with parchment paper.
Bake cookies for 10-12 minutes. Gently press one lemon melt on top of warm cookie, Transfer to cooling rack.