A few months ago, Starbucks announced the reformulation of their at home coffee lineup in stores. Many core coffees were removed, and a new wave of promotional coffees have been added. I won't lie, my heart almost stopped when I saw we were discontinuing Kenya in our stores. My go to iced coffee in the summertime. Of course there are so many other great coffees to choose from, but Kenya has my heart.
I was grocery shopping at Safeway the other day, and it doesn't matter if I need to go down the coffee aisle or not, every time I go to the grocery store, I wander down the coffee aisle just to see if there is anything new. On the bottom shelf, I saw these bright, colorful bags. I picked one up and couldn't believe my eyes. Kenya was in Safeway, along with Brazil and Costa Rica. Of course I had to buy them all and fall in love all over again.
The first thing I thought of when I saw this bag was Grapefruit LaCroix (don't judge me!!) I'm sorry, but the colors and the styling are so similar, and it's so fitting because Kenya has that incredible grapefruit like acidity. I decided to continue with my slight obsession with cold brew sodas since it is still in the triple digits here in Sacramento!
For this recipe, you will need to make a cold brew concentrate. Making cold brew is one of the most popular questions I receive, and there are several different ways I like to make it, mostly depending on the batch size. For this, I am just doing a small batch, no special equipment needed. Just 1 cup of coffee, ground on a coarse setting (french press) and 2 cups of room temperature filtered water. Make sure the grounds are fully saturated and let steep for about 16 hours in a cool dark place. Then strain and refrigerate. Super easy, the most difficult part is waiting the 16 hours!

Grapefruit-Blackberry simple syrup
Ingredients
2 oz fresh squeezed grapefruit juice about half a grapefruit)
2 oz filtered water
½ granulated sugar
8 blackberries
zest from one grapefruit
Instructions
Combine all ingredients in a small saucepan. Slowly bring to a boil, stirring until sugar has dissolved. Remove from heat and let sit for 5 minutes. Gently squeeze the blackberries against the side of the pan to help release the juices.
Strain into an airtight container, and keep covered and refrigerated.
Grapefruit-Blackberry cold brew
Ingredients
4 oz Starbucks Kenya cold brew concentrate
1 Tablespoon fresh squeezed grapefruit-blackberry simple syrup
4 oz Grapefruit LaCroix sparkling water
Grapefruit slices and fresh mint for garnish (optional)
Instructions
Combine cold brew concentrate, simple syrup and LaCroix water. Pour over ice. Garnish with fresh mint and grapefruit slices if desired.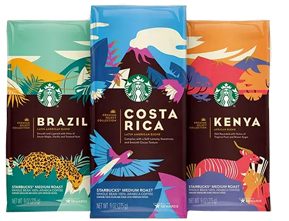 As far as I know, these new Premium Selection Coffees are only available at Safeway grocery stores. There are currently three offerings, Costa Rica, Brazil and Kenya. Over the next few weeks I will be highlighting each of these coffees, so please check back!