Happy New Year! Er… I know I am a little bit late to the party here. The new wordpress update threw me for a loop, and I was just so frustrated with it, I didn't want to deal with it. Thankfully, tonight I stumbled across the classic editor plugin.. Hallelujah! Now that things are back to "normal", I am ready to dive back in to the blogging world.
Now, I normally hate blogs that have some long ass, semi related story, and I really try not to do that here. Just show me some pretty pictures and give me a recipe, right?! Well, I do have a little story to tell you. A few months ago, I decided to temporarily switch to a vegan diet. This diet is also modeled off of the whole30, so many things are off limits, including alcohol and sugar. So, if you know me personally, you know this has been a challenge. So much so that it also contributed why I kind of stopped writing here. I am happy to report that switching to vegan has been one of the best things for me, and while I am currently "mostly vegan", I do try to be as plant based as possible. Does that mean that all of my recipes will be vegan? No, but you will see more vegan options from here on out. OK, can we please talk about the coffee now?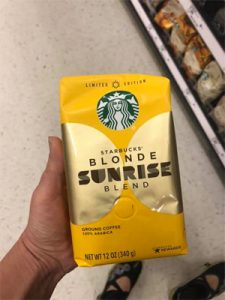 Last week I was at Target, and out of the corner of my eye, I spotted a bright yellow k-cup box. It was "Blonde Sunrise blend".  I have never seen or heard of this, so I posted a picture of it on workplace. The CPG team supplied me with a fact sheet and said it was also in ground format. Sweet! So I have been stalking Targets all over Sacramento trying to find it. Today was my lucky day, in Folsom.
As far as I know, the blonde sunrise blend will only be sold at Target, and is available in two formats; ground and k-cups. You can also buy this online!
Starbucks Blonde Sunrise blend is a blend of washed Latin American coffees. This coffee has a high acidity, a medium body, and a creamy body. Complimentary flavors are red apple, lemon, caramel and milk chocolate.
---
#coffeemasterchallenge Compare Starbucks blonde sunrise blend with Veranda blend.
---
This recipe is vegan and gluten free, however, you can adapt it to fit your needs. I had never even heard of Tigernut flour until I was at the grocery store and saw a bag. Intrigued, I bought some, along with the black maca powder and a few other oddities. I have included links to buy both of these products on amazon, if you'd like to try them out! 🙂 I was super impressed with the Tigernut flour. The texture of the cookies is so good, which is not always the case with some gluten free flours.
So, what the heck is tigernut flour anyways? I'll admit, being the crazy cat lady that I am, I wanted to buy it solely based on the use of the word tiger. Upon further research though tigernut flour is pretty awesome! First off, it's not a nut at all, but a root vegetable. Tigernut flour is sweet with it's naturally high sugar content, and it also is a great source of fiber. So, it's gluten free, nut free, tastes good and works well for baking. A great flour alternative for those with nut allergies.

Almond butter cookies (v/gf)
Vegan gluten free cookies made with black maca powder and tigernut flour.
Ingredients
1 c Almond Butter (I used plain, no sugar added)
½ c dark maple syrup
½ T pure vanilla extract
½ c Tigernut flour
1.5 T black maca powder
2 T almond milk (unsweetened)
1 t sea salt
Dark chocolate chips
sliced almonds or hemp seeds
Instructions
Preheat oven to 350F. In a mixing bowl, combine almond butter, maple syrup, almond milk and vanilla extract.
In a separate bowl, combine tigernut flour, maca powder and sea salt, and mix well.
Form small balls of dough (about 1 T per cookie) and slightly flatten each cookie onto a parchment-lined baking sheet with a fork.
Bake for approx. 12- 14 minutes. Allow cookies to cool for 15 minutes.
Using a double boiler, melt the chocolate. Use a fork to drizzle chocolate over the cookies. Then add sliced almonds and/or hemp seeds.
Have you tried the Blonde Sunrise blend yet? Let me know what you think in the comments!