I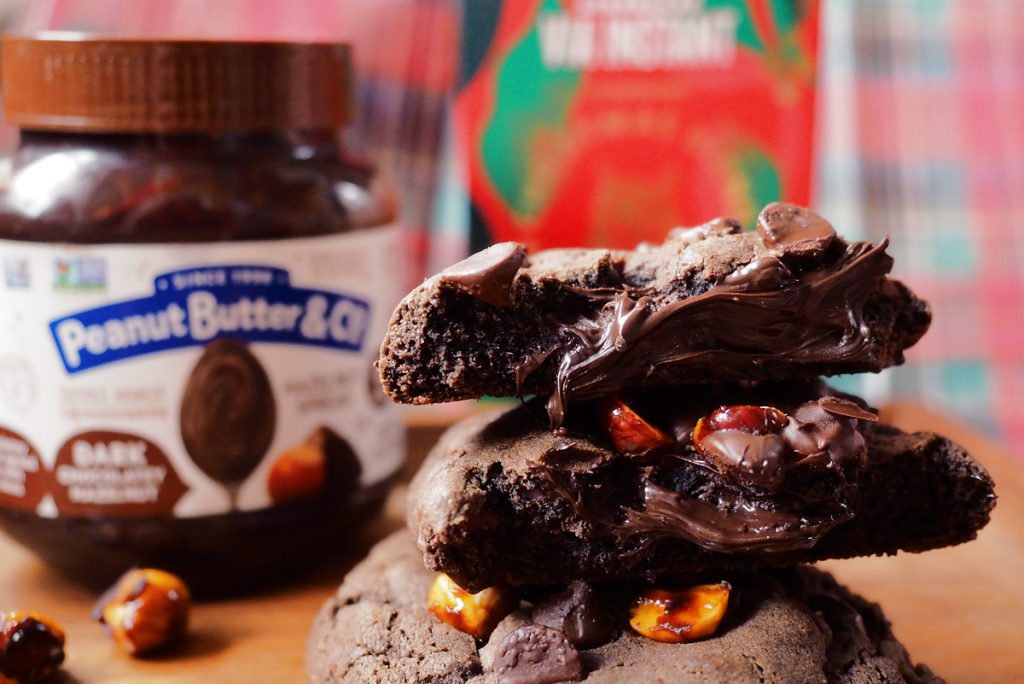 Merry Christmas, happy almost new year and all of that. I have been quiet over here for a while, and I do apologize for that. life has been busy, but I have also been on a total body reset. I will talk more about this later, but for now… let's talk about cookies!
On facebook or instagram, I saw an ad for a cookie contest put on by Peanut Butter and Co., and even though I am on a strict no sugar, no anything diet, I really wanted to enter this. I miss cooking, I miss creating recipes, I miss photographing food. So here we are.. introducing coffee glazed hazelnut cookies.
With most of my recipes, this is heavily dosed with coffee. Coffee in the cookies, coffee glazed on the hazelnuts. It is heavenly and decadent beyond words. Since we are in the Christmas season, I used Christmas blend VIA, but you can use your favorite VIA, Italian roast is my go to when Christmas is not available.
I decided to use Peanut Butter co.'s chocolatey hazelnut spread to stuff these decadent cookies. These are best fresh out of the oven, when they are still warm, and gooey, with that messy, messy lava center. The best kind of cookie is a messy one 🙂

coffee glazed hazelnuts
Ingredients
1 tbsp water
1 packet of Starbucks VIA instant coffee (I used Christmas blend)
2 tbsp sugar
1 tbsp light corn syrup
1 cup hazelnuts, chopped
Instructions
Preheat oven to 350 degrees.
Line a baking tray with aluminium foil.
Add all the ingredients, except the hazelnuts, to a medium saucepan and place over medium heat. Bring to a boil stirring constantly till the mixture has blended completely and looks dark brown. Remove from heat and add hazelnuts and mix until evenly coated. Spread on the baking tray in a single layer. Bake for 10 minutes, stirring once in between. Remove from the oven and allow to cool completely.
Dark chocolate coffee glazed hazelnut cookies
Ingredients
1 cup unsalted butter. cubed and cold
1 cup light brown sugar, packed
½ cup sugar
2 large eggs
½ cup dark unsweetened cocoa powder
2 sticks Starbucks VIA (I used Christmas Blend)
1 cup cake flour
1½ cup all-purpose flour
1 teaspoon cornstarch
¾ teaspoon baking soda
½ teaspoon salt
12oz semisweet chocolate chips
1 jar Peanut Butter Co dark chocolatey hazelnut spread.
Instructions
In a mixing bowl of a stand mixer, cream together butter and sugars on high speed until light and fluffy. Add eggs one at a time, mixing well after each addition.
Add in cocoa, Starbucks VIA, cake flour, all-purpose flour, cornstarch, baking soda, and salt and set mixer on lowest speed setting to stir until dough is just combined. Do not overmix!
Stir in 1 cup of chocolate chips (reserve the rest of the bag)
Cover and place the dough in the fridge for an hour.
Preheat oven to 410°F.
Line two baking sheets with silicone baking mats. With a ¼cup measuring cup, measure out a heaping cup of dough and then flatten dough into a disc. This can get pretty messy 🙂 Open a fresh far of Peanut Butter Co's dark chocolatey hazelnut spread. (give it a good stir too). Use a heaphing teaspoon, ad spoon the spread into the center of the dough. Then carefully wrap your dough around the spread, forming a ball, making sure the spread is completely covered and there are no cracks. Place cookies on baking sheet (no more than 6 to a sheet) about 3" apart. lightly press a few chocolate chips on the top.
Bake one sheet at a time, keeping the remaining cookies in the fridge until ready to bake. Bake for 11-12 minutes. . Remove from oven and gently press a few coffee glazed hazelnuts on top. Allow to cool *on the cookie sheet* for at least 20 minutes.
I am not one for long drawn out blog posts with random stories everyone has to scroll past.. I *am*  a fan of cat pictures, so enjoy a "behind the scenes" photo series with my cat, Cosmo. He loves to help 🙂