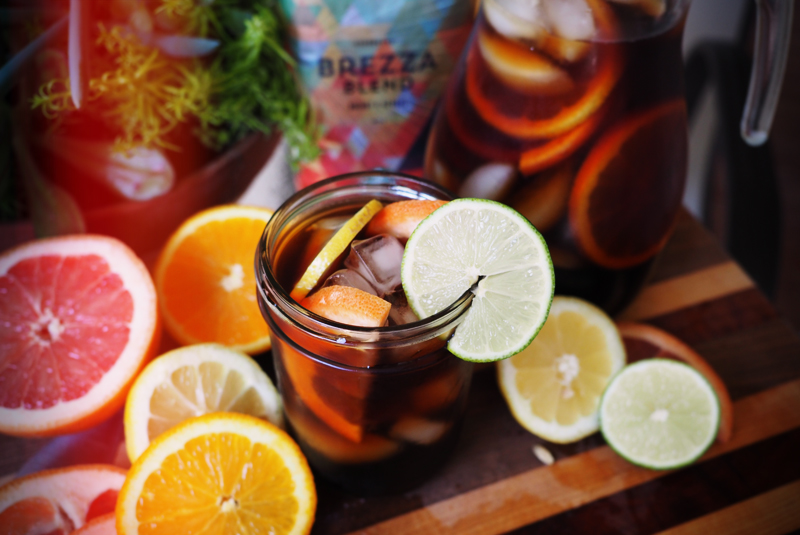 Some coffees are just made for summer. Meet Brezza, a lively mix of beans from Colombia, Papua New Guinea and East Africa. This juicy coffee is incredible iced, especially when paired with citrus. I wanted to make the quintessential summertime beverage.
There is nothing more refreshing on a hot day than a big glass of sangria and a group of great friends. Or is there? I set out to make a coffee sangria that was light, crisp and refreshing with a hint of sweetness. Brezza is the perfect coffee for sangria. It's lively, bright, subtle herbal notes and a fleeting acidity pair perfectly with a variety of citrus.
The first step is to prepare a cold brew of Brezza. I use a mason jar, and a simple 1:4 ratio of coffee to water. 1 cup of coarsely ground coffee to 4 cups of filtered water. Make sure all the grounds are saturated, and store the jar in a cabinet for 18 hours. Strain the grounds out, and you will have your cold brew. You may need to add ice or water to taste.
I generally like my coffee without sweetener, but since sangria is traditionally sweetened with orange juice or honey, I decided to make a minneola simple syrup. A minneola is a cross between a grapefruit and a tangerine, and has a very sweet orange flavor. If you don't have access to minneola, any citrus will work too!
minneola simple syrup
Ingredients
1 cup water
1 cup sugar
1 minneola
Instructions
Dissolve the water and sugar together on the stove.
Add the juice from the Minneola. You can shave the peel of the fruit and add it to the mixture for a little zest.
Cook on a medium low heat for about 15 minutes, or until the mixture starts to thicken up.
Pour into a squeeze bottle to cool.
While you are making the syrup, slice a variety of citrus. I used grapefruits, blood oranges, minneolas, lemons and limes. You could also add raspberries to the mix as well!
Fill a pitcher with ice, add the sliced fruit and then add the cold brew coffee. Let steep for about 5 minutes before serving. Sweeten to your taste. For added fun, garnish each glass with lime slices or fresh grapefruit segments.