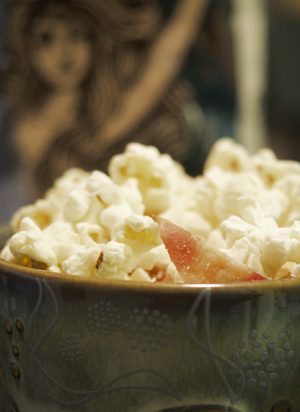 In the autumn of 1996, Starbucks was celebrating its 25th anniversary. The company had grown from a single store at Pike Place Market to more than 1,000 stores. As a tribute, Starbucks introduced Anniversary Blend, a complex, hearty coffee with cedary spice notes.
Nearly twenty years later, Anniversary Blend is still expertly crafted from a blend of Asia Pacific coffees, starting with lush, full-bodied coffee beans from Indonesia and Papua New Guinea. Aged coffee beans from Sumatra add a distinctive, spicy flavor.
The tasting notes for this coffee suggest enjoying Anniversary Blend with a bowl of popcorn. I decided to take this one step further and add bacon and truffle salt. This coffee goes so well with buttery flavors, and the truffle salt really adds a richness when combined with the bacon and parmesan cheese.

Anniversary Blend with truffled bacon popcorn
Ingredients
8 cups popped popcorn
4 slices bacon
1 stick unsalted butter, melted
1 teaspoon truffle salt
½ cup finely grated parmesan cheese
Instructions
Pour popcorn into a large bowl and set aside.
Arrange bacon side by side on a plate lined with parchment paper. Cover with another sheet of parchment paper or microwave-safe cover and cook on high for 4-6 minutes. Rotate the plate half way through cooking so bacon cooks evenly. Place bacon on a paper towel lined plate to drain, then crumble or slice into small pieces and add to popcorn.
Melt and pour butter over popcorn then sprinkle with truffle salt. Mix to combine. Then add parmesan cheese and toss to coat.