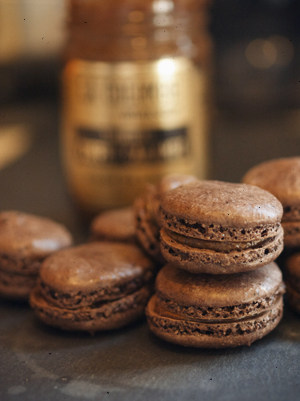 When I was putting together my final presentation for Bainbridge Island blend, I decided it would be fitting to come up with a few "perfect pairings", and include the recipes in the final packet.
This recipe for coffee caramel filled dark chocolate macarons is my favorite to date. The coffee caramel really brings out the roasty sweetness of the espresso in this blend, and really showcases the layers of flavors in this blend. 
If you've never made french macarons before….. It's hard.
It's difficult, but not impossible.
I am not an expert in making macarons, in fact, I have about a 50% success rate with them. Even if they don't look pretty, they still taste delicious, and I'll gladly eat the mistakes 🙂
If you don't have Bainbridge Island blend, these macarons would be delicious with Guatemala Antigua, Espresso Roast, Caffe Verona and Gold Coast blend. You can also change up the filling to tailor them to just about any coffee. I like to use La Colombe's coffee caramel (edit: this product is no longer sold on La Colombe's website. 🙁 ) but you could also use chocolate ganache, salted caramel, even peanut butter!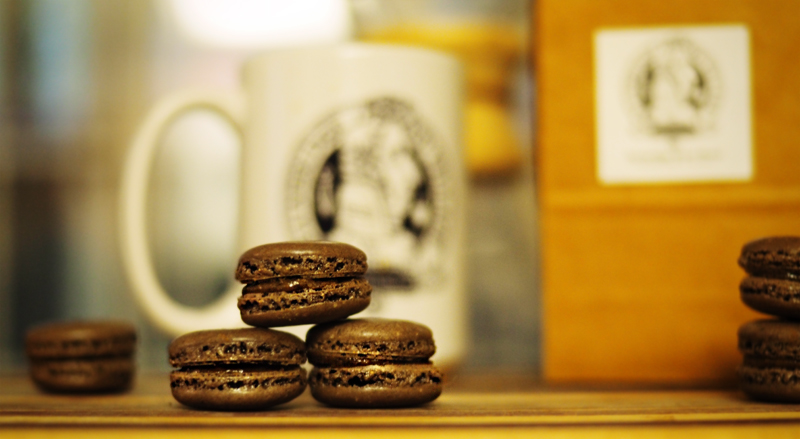 dark chocolate macarons
Ingredients
2 cups confectioners sugar
1 cup almond flour
3 Tablespoons of special dark cocoa powder
3 egg whites
¼ cup granulated sugar
la colombe's coffee caramel
Instructions
With your electric mixer, mix the egg whites until foamy. Slowly pour in the granulated sugar. Whip on high until stiff peaks form.
In a large bowl, sift together almond flour, cocoa, and confectioners sugar.
Using a rubber spatula, carefully fold egg whites with your dry ingredients.
Line cookie sheets with parchment paper. Transfer mixture into a large piping bag fitted with a 1M tip or larger. Pipe 1 ½-inch circles onto your cookie sheets, spacing them approximately 2 inches apart. After you have finished piping the cookies out, using a wet finger, carefully smooth any bumps on the top out. Then give the cookie sheets a good whack on the counter. This removes any air bubbles that might have formed.
Allow cookies to sit out on your counter for about an hour, or until the tops have started to dry.
Bake at 325 °F on the center rack of your oven. The cookies are done when they have risen and formed a wider layer around the bottom (also called the feet), and they are dry and hard to the touch. Should take about 15 minutes.
Allow cookies to cool at room temperature, and remove from cookie sheets.
Spoon coffee caramel onto one cookie, and top with a second, creating a sandwich.