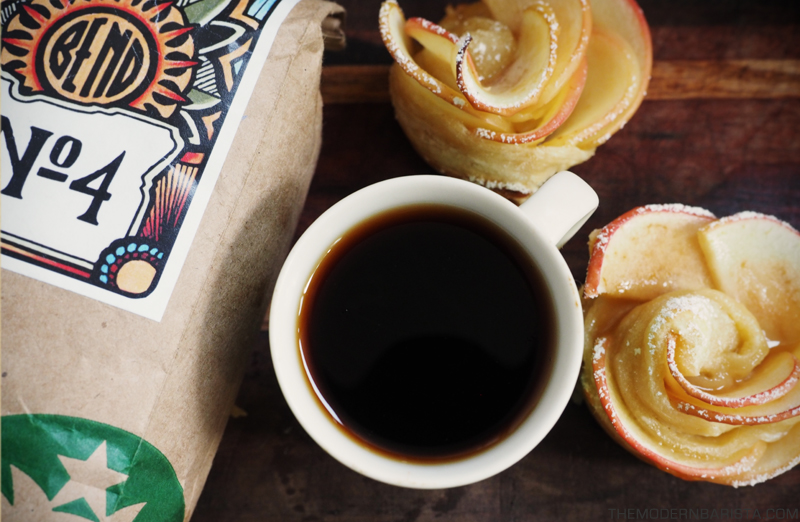 Since the launch of Bainbridge Blend, more and more custom blends are popping up. I am constantly amazed by how beautiful the labels are, and how fantastic the blends have all been, as well as the stories behind them. Listening to partners talk about how and why they chose these beans to tell their story of their location is so inspirational. This is why we're here; to create inspired moments.
One of my friends was in Bend, Oregon this past weekend, and I asked her to pick me up a bag of this new blend. This is one I actually know very little about, but thankfully the label on the bag has a ton of information about this blend. It is a blend of Guatemala, Verona and Kenya.
Three local Starbucks coffee masters were tasked with creating a blend that represented our incredible city. After numerous brainstorming sessions and tastings, the collaboration resulted in Bend Blend no4.

This blend of three distinctive coffees is complex and elegant with a sparkling finish. It's bold enough to withstand snowy days in the mountains, yet smooth enough to sip iced while floating down a river on a hot summer day. It starts with Guatemala Antigua which is smooth and balanced much like life in our mountain town. The addition of Caffe Verona, with it's bold dark cocoa notes and subtle sweetness, reflect Bend's way of living and the adventure seekers that call it home. Finally, a touch of Kenya with its smooth citrusy notes, to celebrate being outside in the sun which is a quintessential part of life in Bend.

One sip will draw you into the sophisticated adventure that is Bend Blend no4.
The Guatemala and Kenya really shine through in this blend, so I wanted to pair it with something that would harmonize with all three coffees. Caramel dipped apples is one of my favorite pairings with Guatemala, and I thought the brightness of the (pink lady) apples would lend itself well to the Kenya.
There was a video tutorial on how to make these little apple rosettes on facebook, and I'm going to include it here. My process was the same, except instead of using apricot preserves, I used salted caramel. You could use jams, nutella, cookie butter, whatever your heart desires. I choose caramel simply because I wanted to draw out the sweetness in this blend!
Bend Blend no4 with salted caramel rosettes
Ingredients
4 apples, cored and halved (leave the skin on)
juice from ½ lemon
salted caramel sauce (see recipe below)
2 Tbsp water (plus more for apple soak)
1 sheet of puff pastry
Instructions
Preheat Oven to 375 degrees
Put apple slices in microwave safe bowl. Fill bowl with water and juice from half a lemon. Use enough water to make sure apple slices are covered by water. Microwave for 3 minutes. This will soften the apple slices and make them more pliable for rolling up.
Next grab a sheet of puff pastry. Flour your board and roll out the puff pastry enough to make 6 strips at 3 inches wide. I scored and cut mine with a pizza wheel put you can use a knife.
Spoon out the caramel sauce in the center of the strip of puff pastry.
Next place the apple slices long ways halfway on the strip. Keep adding slices until you reach the end. Then fold the puff pastry over the bottom of the apple slices.
Roll up the puff pastry and place in a greased muffin tin.
Bake the apple roses for 35-45 minutes.
Pull out of oven and let cool for 5 minutes.
Salted caramel sauce
Ingredients
1 cup sugar
6 Tablespoons unsalted butter, cut into 6 pieces
½ cup heavy cream
1 teaspoon salt
Instructions
Heat granulated sugar in a medium saucepan over medium heat, stirring constantly with a wooden spoon. The sugar will form clumps and eventually melt into a thick brown, amber-colored liquid as you continue to stir.
Once the sugar is completely melted, immediately add the butter.
Stir the butter into the caramel until completely melted, about 2-3 minutes.
slowly, drizzle in ½ cup of heavy cream while stirring.
Allow the mixture to boil for 1 minute.
Remove from heat and stir in 1 teaspoon of salt.
Allow to cool down before using.
Cover the caramel tightly and store for up to 2 weeks in the refrigerator.
The artwork featured on this bag was created by Nick Pulzone. This bag presentation is one of my favorites! Beautiful logo and colors, and the size of the sticker fits the bag perfectly, and tells the story of the coffee. Well done Bend partners!