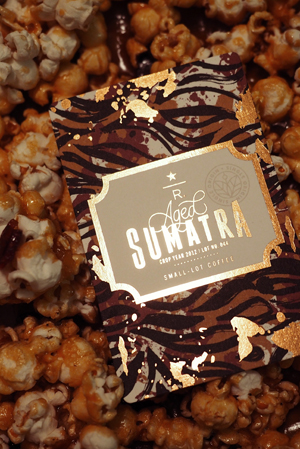 Hands down, one of my favorite reserve offerings is aged Sumatra. When I heard it was coming back, I immediately made a trip to the Roastery and grabbed several bags from the scoop bar. Aged Sumatra has never stuck around long enough for me to do a coffee pairing with it, and I was determined to do it this time around.
This lot of aged Sumatra was resting for three years. The aging process is methodical, as the beans must be handled carefully and tasted regularly. Time and effort are well rewarded in this case. The result, intriguing saddle-leather aromas with flavors of butterscotch and maple.
The inspiration for aging coffee comes from when coffee was shipped from Indonesia to Europe. The months at sea with the wooden ship hulls gave the coffee a unique characteristic. Today Starbucks ages it's coffee in Singapore, where warm, tropical breezes circulate among the burlap bags full of resting coffee. The beans absorb moisture during the monsoon season, and release some of it in the drier seasons, allowing the coffee to develop its concentrated body and aromas. Every six months the bags are rotated and sampled. Typically coffee is aged here for three to five years, developing distinct flavors like black licorice, toasted marshmallow, butterscotch and maple.
When I first read the tasting notes for this coffee, I was stuck on the "saddle-leather aromas". I smelled the beans, that were roasted earlier that day, and didn't get any leather notes. I waited a few days to let the coffee degas, and I brewed it on the clover. There it was. It brought me back to when I used to ride horses, and cleaning the tack. I loved that smell, and I love how coffee can bring me back to a moment in time, to stir up a long lost memory.
This coffee has an unusual sweetness to it. Once the coffee cools, then the spicy cedar notes start to shine through. I found it very interesting to compare side by side a freshly brewed cup next to a cup that has let cool for a few minutes. The contrast between sweet and spicy is incredible!
The sweetness of this Aged Sumatra is unlike any other I have had, and it reminded me of something.. I like to cook with bourbon and bacon (a lot), but not all bourbons are created equal. The particular bourbon I used, Knob Creek, has been aged for 9 years in wood. Aging for this long allows more of the sugar to be absorbed, giving a sweeter scent and taste. Plus it's rich, full-bodied taste and glowing finish is a perfect compliment to Aged Sumatra.
Can we just talk about how gorgeous the artwork is for this coffee? One of my favorites from the creative team so far!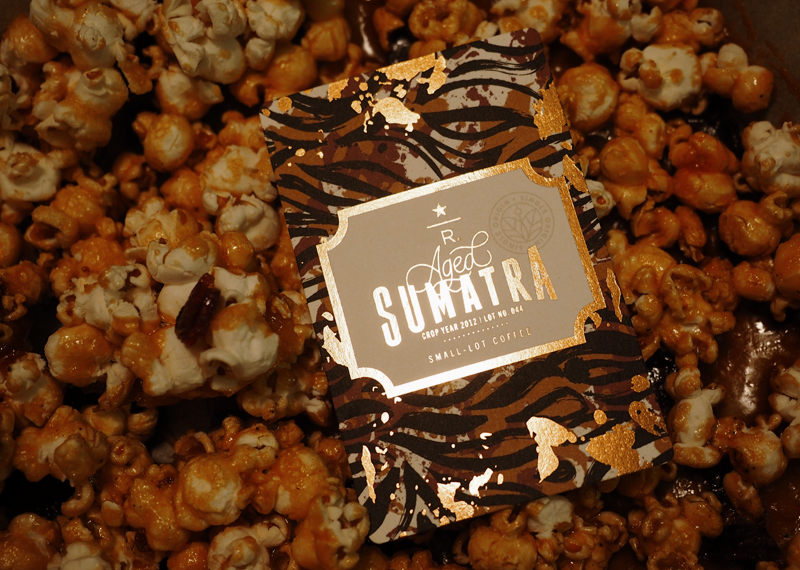 butterscotch bourbon bacon popcorn
Ingredients
7 cups store-bought popcorn (you can pop your own if you'd like)
4 slices of cooked and crumbled bacon
½ cup sugar
6 tablespoons butter
¼ cup light corn syrup
2 tablespoons bourbon (I used Knob Creek)
1 teaspoon vanilla extract
½ teaspoon sea salt
¼ teaspoon baking soda
Instructions
Preheat the oven to 250°F . Line a baking sheet with parchment paper and butter the parchment.
Discard any unpopped kernels from the popcorn. Divide the popcorn and crumbled bacon evenly.
Place the sugar, butter, and corn syrup in a saucepan. Bring to a boil over medium heat, stirring constantly. Remove the pan from the heat and carefully stir in the bourbon, vanilla, salt, and baking soda.
Immediately pour the bourbon syrup evenly over the popcorn and bacon and, working quickly, toss everything with a lightly buttered spatula to coat it. Spread the popcorn mixture in an even layer and bake for 50 to 60 minutes, stirring every 15 minutes.
Spread the popcorn on a fresh sheet of parchment paper to cool, breaking apart large clumps once the popcorn is not too hot to handle.