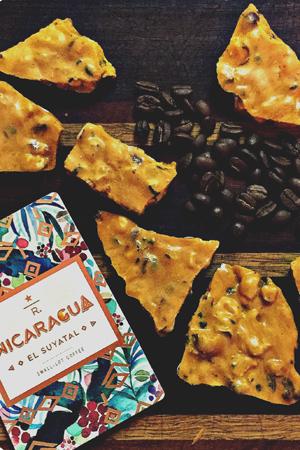 Sometimes planning a coffee tasting is very methodical and can take months of planning. Sometimes I know what I want to pair with it after the first sip.
The first time I tasted Nicaragua el Suyatal, I fell instantly in love with the sweetness and the distinct notes of hazelnut. The timing of this release couldn't be more perfect, November, heading into Holiday season, where each year I make peanut brittle for everyone. I knew the el Suyatal would be perfect with a brittle, with a little twist.
Instead of my "plain" peanut brittle (which is spiked heavily with cayenne!) I wanted to do a hazelnut brittle, but what if…. What if I incorporated the Nicaragua el Suyatal into the brittle? Brittle with a buzz. 🙂

Nicaragua el Suyatal with hazelnut-coffee brittle
Ingredients
1 cup sugar
½ cup light corn syrup
¼ teaspoon kosher salt
¼ cup water
1¼ cup chopped hazelnuts
4 tablespoons Nicaragua el Suyatal, roughly chopped
2 tablespoons unsalted butter, room temperature
1 teaspoon baking soda
Instructions
Grease a large cookie sheet. Set aside.
In a heavy 2 quart saucepan, over medium heat, bring to a boil sugar, corn syrup, salt, and water. Stir until sugar is dissolved. Stir in hazelnuts.
Set candy thermometer in place, and continue cooking. Stir frequently until temperature reaches 300 degrees. Stir in the chopped Nicaragua el Suyatal.
Remove from heat; immediately stir in butter and baking soda; pour at once onto cookie sheet.
With a greased spatula, spread across the pan. Let cool and then snap candy into pieces.