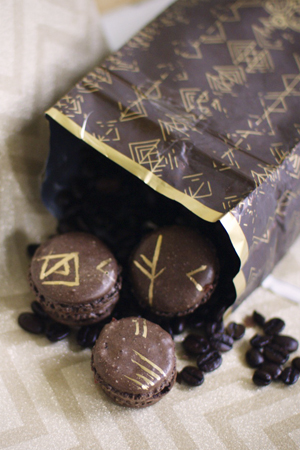 I like to ring in each and every New Year with Guatemala Casi Cielo. This is one of my favorite coffees that I look forward to all year long, and I am always sad when it's gone. I wanted to share my favorite pairing with Casi Cielo with you. This is a pairing I do each and every year, and somehow I never grow tired of it.
I am getting ready to go on vacation for a few weeks, so the pictures that I am posting are from my 2013 pairing, which these pictures are some of my favorites I have ever taken. Gold leafing each individual macaron was a long process, but worth it. 🙂
What's in a name? Casi Cielo translates to Almost Heaven, and at first sip, you can see why. With its floral aromas, lemon acidity and dark cocoa finish, Casi Cielo can pair with a dessert, or can be a dessert.
The recipe for these macarons is something I have posted about before. This is my go to macaron recipe that I created to pair with my Bainbridge Island blend. With this pairing, we will fill the shells with a dark chocolate ganache sprinkled with a lemon charcoal. The great thing about making macarons, is that you can fill them with anything you want! This makes them extremely versatile for coffee tastings.
What the heck is lemon charcoal? This is an easy technique that can work with a variety of citrus and coffees. For Casi Cielo, I recommend using meyer lemons, as they are a bit sweeter. You will juice the lemons and the roast the rinds in the oven, until they dry out and turn black. these will then be ground into a very fine powder. The aroma of the charcoal alone is great for tastings, but adding it to the chocolate ganache is pretty magical. This macaron hits all the sweet spots; sweet, bitter and smokey, all three attributes work perfectly with Casi Cielo.
Casi Cielo with Chocolate Macarons & lemon charcoal
Ingredients
2 cups confectioners sugar
1 cup almond flour
3 Tablespoons of special dark cocoa powder
3 egg whites
¼ cup granulated sugar
Instructions
With your electric mixer, mix the egg whites until foamy. Slowly pour in the granulated sugar. Whip on high until stiff peaks form.
In a large bowl, sift together almond flour, cocoa, and confectioners sugar.
Using a rubber spatula, carefully fold egg whites with your dry ingredients.
Line cookie sheets with parchment paper. Transfer mixture into a large piping bag fitted with a 1M tip or larger. Pipe 1 ½-inch circles onto your cookie sheets, spacing them approximately 2 inches apart. After you have finished piping the cookies out, using a wet finger, carefully smooth any bumps on the top out. Then give the cookie sheets a good whack on the counter. This removes any air bubbles that might have formed.
Allow cookies to sit out on your counter for about an hour, or until the tops have started to dry.
Bake at 325 °F on the center rack of your oven. The cookies are done when they have risen and formed a wider layer around the bottom (also called the feet), and they are dry and hard to the touch. Should take about 15 minutes.
Allow cookies to cool at room temperature, and remove from cookie sheets.
Spoon chocolate ganache onto one cookie, sprinkle with lemon charcoal (recipes to follow), and top with a second, creating a sandwich.
Dark chocolate ganache
Ingredients
¾ cup heavy cream
6 oz. bittersweet or semisweet chocolate, finely chopped
Instructions
In a small saucepan, heat the cream over medium heat, swirling the pan a few times, until bubbles start to form around the edge of the pan but the cream is not yet boiling, about 4 minutes. Remove from the heat, add the chocolate, and let sit for 30 seconds. Slowly whisk the mixture until the chocolate is completely melted and smooth.
Let cool to room temperature before piping onto the macaron shells.
Lemon charcoal
Ingredients
2 lemons (I prefer meyer lemons) juiced.
Instructions
Place the juiced lemons on a sheet pan lined with parchment paper. Put in a 400 degree oven and roast until the lemons are black and dry.
Once completely dress, put the lemons in a blender or food processor and grind into a fine powder.