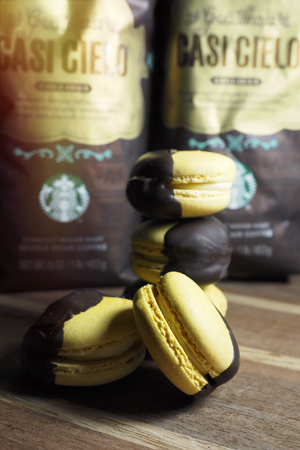 Earlier I posted about my dark chocolate macarons with lemon charcoal to pair with Guatemala Casi Cielo. I wanted to switch things up a little bit and make the lemon the more dominate flavor in the pairing, dipped in dark chocolate.
Meyer lemons are in season right now, so  is Casi Cielo. Coincidence? I think not! I love pairing Casi Cielo with meyer lemons over regular lemons because of their sweetness. Meyer lemons don't have as much of a bite, and using their zest can lend more of a complex floral aspect to the pairing. If you have never done a side by side tasting of meyer lemons verses regular lemons, this is a great activity to help develop vocabulary for coffee tastings.
Recently, and by recently I mean today, the Specialty Coffee Association (SCAA) announced their newly updated flavor wheel. This tool has been instrumental for my coffee journey, and really helps me how I develop my pairings.
I love making macarons, but they can be very fussy to make. Do not get discouraged if they don't turn out perfect the first time around. They will still taste delicious, I promise 🙂

Casi Cielo with chocolate dipped meyer lemon macarons
Ingredients
3 large egg whites, room temperature
1 whole meyer lemon, zested
4 ounces almond flour
8 ounces confectioners sugar
¼ cup granulated sugar
2 teaspoons fresh meyer lemon juice
yellow food coloring (optional)
Instructions
Zest the meyer lemon and allow to dry on a paper towel for a few hours.
With your electric mixer, mix the egg whites until foamy. Slowly pour in the granulated sugar. Whip on high until stiff peaks form.
Add meyer lemon juice and yellow food coloring, if desired.
In a large bowl, sift together almond flour, meyer lemon zest, and confectioners sugar.
Using a rubber spatula, carefully fold egg whites with your dry ingredients.
Line cookie sheets with parchment paper. Transfer mixture into a large piping bag fitted with a 1M tip or larger. Pipe 1 ½-inch circles onto your cookie sheets, spacing them approximately 2 inches apart. After you have finished piping the cookies out, using a wet finger, carefully smooth any bumps on the top out. Then give the cookie sheets a good whack on the counter. This removes any air bubbles that might have formed.
Allow cookies to sit out on your counter for about an hour, or until the tops have started to dry.
Bake at 325 °F on the center rack of your oven. The cookies are done when they have risen and formed a wider layer around the bottom (also called the feet), and they are dry and hard to the touch. Should take about 15 minutes.
Allow cookies to cool at room temperature, and remove from cookie sheets.
Spoon filling onto one cookie, and top with a second, creating a sandwich.
Meyer lemon buttercream
Ingredients
½ stick unsalted butter, room temperature
1 ounce weight cream cheese, room temperature
3 tablespoons meyer lemon juice
1 teaspoon vanilla extract
2 cups confectioner's sugar
Instructions
Using a stand mixer, beat the butter and cream cheese until light and fluffy.
Add the meyer lemon juice and vanilla. Blend until combined.
Add the confectioner's sugar and beat on low until smooth.
Pipe on macarons, or store in an airtight container in the refrigerator until ready to use.
I decided to dip my finished macarons in dark chocolate. To do this I melted semi sweet chocolate in a double boiler. I dipped half of the cookie in the chocolate and let set. You could also dust the macarons with cocoa powder immediately after baking.