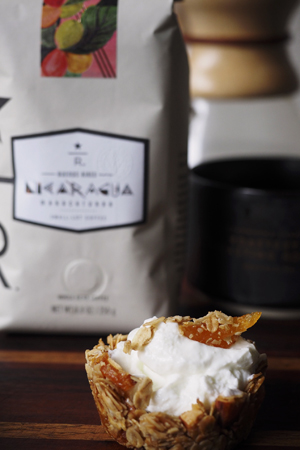 Nicaragua Maracaturra is the first reserve subscription for 2016! What an epic way to kick off the year! This coffee has sweet herbal aromas, with notes of peach, apricot and honey. This is the second time Starbucks has offered this coffee, the first being in 2012.
Before I get into the pairing, let's talk about this long name this coffee has…. maracaturra. What does that mean? Maracaturra is a varietal, a naturally occurring cross between Maragogype and Caturra. Maragogype beans are also known as 'elephant beans'; these beans are huge! It should also be noted that mara translates to crowded in Spanish. Once you see how large these beans are, try to imagine the cherries all on a branch. Crowded,  indeed!
As I was editing these photos, all I could think of was the commercial for Bush Beans…. Roll that beautiful bean footage!
I decided to compare them to Guatemala Casi Cielo. The Maracaturra is almost double the size!
The beans are beautiful. They are also delicious. This is a medium bodied coffee with a medium body, sweet herbal aromas with notes of apricot, peach and honey.
Just coming back from Hawaii, I am really in to having breakfast. Not like bacon and eggs, but fresh fruit and yogurt. I loved waking up in the morning to fresh pineapples and papaya. That easy morning start was the inspiration for this pairing.
honey-apricot granola
Ingredients
4 cups old-fashioned rolled oats
1½ cups raw almonds, roughly chopped
1 teaspoon sea salt
¼ teaspoon ground ginger
½ cup melted coconut oil
½ cup honey
¾ teaspoon vanilla
1 cup chopped dried apricots
Instructions
Preheat the oven to 350 degrees Fahrenheit and line a half-sheet pan with parchment.
In a large mixing bowl, combine the oats, nuts, salt, and ground ginger. Stir thoroughly to combine.
Stir in the oil, honey and vanilla. Stir in dried apricots.
Turn the granola out onto your prepared pan and use a large spoon to spread it in an even layer. Bake for 25 minutes, stirring halfway. The granola should be turning lightly golden (keep an eye on it as honey tends to brown). The granola will crisp up as it cools.
Notes
To make the granola cups:
Spray a muffin tin with nonstick spray. Press the granola in the wells, pushing up the sides to create a bowl shape. Bake in a 325 degree oven for 10 minutes. Remove from oven and let cool completely.
Fill granola cups with yogurt and top with dried apricots and/or more granola!
I really enjoy how this coffee paired with the almonds! This is a coffee that can stand up to something super sweet, like a peach cobbler perhaps? 🙂 It could happen…… 😉
Bonus cat photo!
Want exclusive coffees delivered to your door once a month? Sign  up for a Reserve subscription!