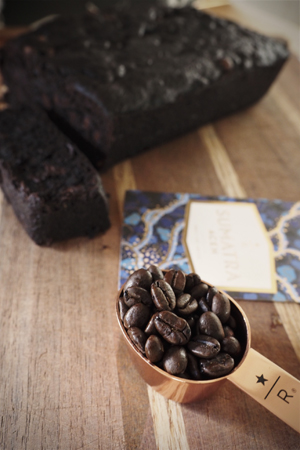 When you think of Sumatra, you probably think of a coffee with incredible earthy notes and a heavy syrupy body. This is not that coffee.
Core Sumatra is one of my favorite coffees at Starbucks, but when a Sumatra reserve comes out, I always get excited. They are always so different, and the Sumtra Aceh is no exception. With big fruity notes and a silky chocolate finish, it has quickly become one of my favorite reserve offerings.
Aceh (pronounced ah-chey) is a province on the northwest tip of Sumatra. This coffee is semi-washed with a low acidity and a medium body. It has this great sweet banana flavor, and I love pairing it with Starbucks banana loaf. I had a bunch of bananas that turned, so making banana bread had to happen!
I wanted to make a banana bread that would not only highlight the silky chocolate finish, but the subtle spice notes as well. I decided on a dark chocolate banana bread with milk chocolate chips and a hit of cardamom. The addition of the cardamom adds a spicy herbal note which is reflected in the cup as well.

Sumatra Aceh with chocolate banana bread
Ingredients
4 very ripe bananas
½ cup butter, melted
¾ cup dark brown sugar
1 large egg
1 teaspoon pure vanilla extract
1 teaspoon baking soda
¼ teaspoon kosher salt
¼ teaspoon ground cardamom
1 cup all-purpose flour
½ cup dark cocoa powder
1 cup milk chocolate chunks or chips
Instructions
Preheat oven at 350°F. Prepare a loaf pan with non stick spray, set aside.
Mash bananas in the bottom of a large bowl. Whisk in melted butter, then brown sugar, egg, and vanilla. Place baking soda, salt, cardamom, flour and cocoa powder in a sifter. Sift over wet ingredients. Stir dry and wet ingredients with a spoon until just combined. Stir in chocolate chips.
Pour into prepared pan and bake 55 to 60 minutes. Let cool in pan for 10 minutes before removing. Personally, I like this best straight out of the oven, but will still be delicious for up to 2 days.