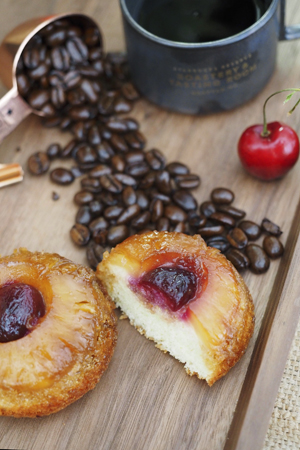 A few weeks before we left Seattle, I was hearing rumors about a sun dried coffee from East Timor. My interest was piqued.
At that time, Reserve stores were featuring an East Timor peaberry from Cooperative Café Timor (CCT). This coffee comes from the same cooperative, a collaboration between Starbucks and CCT. Starbucks wondered what a natural processed coffee from East Timor would taste like, and the result is a powerhouse of fruit flavors highlighting pineapple and black cherry
East Timor Red made it's debut at the Roastery exactly one week after I moved away. However, I am so thankful for my friend Melody, who keeps me up to date with all of the Roastery exclusives! Thank you, Melody. I couldn't do this without you 🙂
Where is East Timor? Timor is an island in the Indonesian archipelago, northwest of Australia. East Timor, or Timor Leste, is on the eastern side of Timor. After crude oil, coffee is the largest export of East Timor. Starbucks is a major purchaser of coffee from East Timor, and has been purchasing coffee from CCT since 1996. Starbucks has helped CCT improve the quality of their coffee, and has also supported health programs and clinics. Together, Starbucks and CCT have improved the livelihood of thousands of people in the coffee communities of East Timor.
You don't often see naturally processed coffees from Indonesia, in fact, I can only think of one that was offered a few years back; Sumatra sun dried Rasuna. That was one of my favorite reserve coffees to date, which made me even more curious about this coffee. The natural process was the first processing method used, and is typically only used in countries where water resources are limited. The cherries are picked at the absolute peak of ripeness, and then laid out on elevated beds. These cherries require constant attention, being raked and turned several times a day, and then covered at night to protect them from the elements. This process can take several weeks, and if the beans don't dry evenly, the entire crop can be lost.
Another thing to know about this coffee is how long it was roasted for; a full 12 minutes! This coffee is pretty dark for a reserve, and it is absolutely beautiful. I opened the bag, and my husband, who was outside, could smell the big fruity aromas wafting outside.
This is a full bodied coffee, low acidity, huge notes of black cherry and pineapple with a lingering sweetness. I felt a pineapple upside down cake was the perfect pairing, although I did swap out the 'traditional' maraschino cherry with a bing cherry. 🙂
East Timor Red will only be available at Reserve bars across the country. I understand that it will be offered as cold brew in those locations as well!

East Timor Red with mini pineapple upside down cakes
Ingredients
2 eggs
⅔ cup sugar
5 Tbsp pineapple juice
1 tsp baking powder
⅔ cup flour
¼ tsp salt


Topping:

¼ cup butter
⅔ cup dark brown sugar
10 pineapple rings
10 bing cherries, pitted
Instructions
Preheat oven to 350. Spray muffin tin with non stick spray and set aside.
Combine eggs, sugar, and pineapple juice, beat for 2 minutes.
In a small bowl, combine flour, salt, and baking powder.
Slowly add flour mixture to egg mixture and beat another 2 minutes. Set aside.
In a small saucepan, melt together butter and brown sugar over low heat. Stir until sugar is completely dissolved and well combined. Add 1 tablespoon on the mixture to each well of the muffin tin.
Place a pineapple ring in each well. Chances are, the pineapple rings from a can will not fit, so I just trimmed them to fit. Alternatively, you can use pineapple chunks. Place half of a cherry, skin side down, in the center of the pineapple ring. Top with batter.
Bake for 25 minutes, and allow to cool for 5 minutes in the tin.
Using a knife, loosen the edges of each cupcake. Invert the cupcake pan onto a cookie sheet or wire rack.