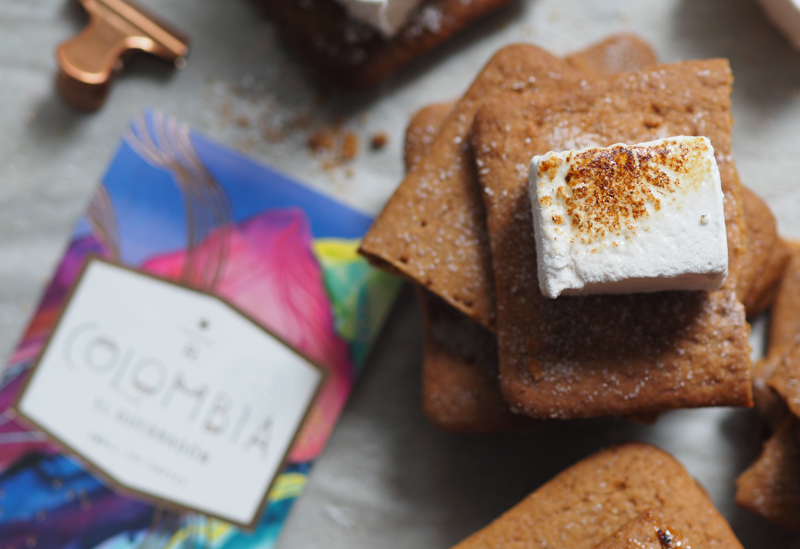 It's national s'mores day, and I wanted to do something fun to celebrate! This pairing has been on my "to do" list since Colombia El Quebradón appeared at the Roastery in May, but with moving and other tastings, it just got pushed back. Once I noticed national s'mores day was coming up, I knew I had to get my act together and make this a priority.
For three months, this idea of a snickerdoodle s'mores has been kicking around in my head, and when I have an idea in process for that long, it tends to evolve, and turn into something so much more complicated. So here it is, in all its glory.. Colombia El Quebradón paired with snickerdoodle & saffron graham crackers, a brown sugar marshmallow, milk chocolate and fresh strawberries. This is a seriously delicious bite, and I don't think I'll ever be able to have store bought graham crackers again.
Colombia El Quebradón is a medium bodied coffee with a juicy acidity, berry notes and a brown sugar sweetness. When I first tasted this coffee in May in Seattle, I knew I wanted to coax out the gentle floral notes in this coffee, and I knew that I wanted to use saffron. Saffron is known for being one of the most expensive spices in the world. It's subtle floral notes, with a sweetness almost like honey, this spice can easy pair with savory or sweet foods. I think saffron goes so well with cinnamon and honey, so I wanted to create a snickerdoodle inspired graham cracker. If you don't want to make your own, substitute these graham crackers for classic honey graham crackers. This was my first time making graham crackers, and it was actually pretty easy! These pair perfectly with the Colombia El Quebradón!
If you've ever worked with me, you probably know my fascination with marshmallows. They are my favorite thing to make, and they are also the first food I ever made (Yes, I do consider marshmallows to be a food). In fact, if I had never watched that one episode of Good Eats (puff the magic mallow), I might not be here today writing this. Good Eats & Alton Brown changed my life, and really helped shape my Starbucks career. I do hope I have the opportunity to thank him someday, but in the meantime, I'll just keep watching Good Eats on Netflix 😉
snickerdoodle & saffron graham crackers
Serves:
24 2"x4" crackers
Ingredients
2½ cups plus more for rolling, unbleached all-purpose flour
1 cup light brown sugar, lightly packed
1 teaspoon baking soda
¾ teaspoon kosher salt
7 tablespoons unsalted butter, cut into 1-inch cubes and frozen
⅓ cup clover honey
5 tablespoons whole milk
2 tablespoons pure vanilla extract




Topping
2 tablespoons granulated sugar
1 teaspoon ground cinnamon
a few threads of saffron
Instructions
Combine the flour, brown sugar, baking soda, and salt in the bowl of a stand mixer. Add the butter, and continue to mix on low until you have the consistency of a coarse meal.
Slowly add the honey, milk and vanilla extract, mixing until it is just incorporated. Lay the sticky dough on plastic wrap, and refrigerate for a few hours, or overnight.
Divide the dough in half, keeping half in the refrigerator. Roll the dough on a very well floured surface. Roll the dough about ⅛" thick. I cut my crackers using a 2"x4" cutter, but cut the crackers in whatever size or shape you want. Lay the crackers on a backing sheet lined with parchment paper.
To make the topping, combine cinnamon and saffron in a spice grinder, and grind until a fine powder. Then mix with the granulated sugar. Sprinkle on top of crackers and place trays in the refrigerator for an additional 15 minutes.
Using a fork, I perforated the crackers to look like store bought ones. Feel free to decorate however you want, using a wooden skewer works well too, just make sure not to cut all the way through the dough.
Bake the cookies for ten minutes, then rotate the trays, and cook for another 7 minutes, or until the tops are browned and slightly firm to the touch.
Cool and enjoy!
brown sugar marshmallos
Ingredients
3 packages unflavored gelatin
1 cup ice cold water, divided
1 cup sugar
½ cup light brown sugar
1 cup light corn syrup
¼ teaspoon salt
¼ teaspoon ground cinnamon
1 teaspoons pure vanilla extract
¼ cup confectioners' sugar
¼ cup cornstarch
Nonstick spray
Instructions
Place the gelatin into the bowl of a stand mixer along with ½ cup of the water. Have the whisk attachment standing by.
In a small saucepan combine the remaining ½ cup water, granulated sugar, brown sugar, corn syrup and salt. Place over medium high heat, cover and allow to cook for 3 to 4 minutes. Uncover, clip a candy thermometer onto the side of the pan and continue to cook until the mixture reaches 240 degrees F, approximately 7 to 8 minutes. Once the mixture reaches this temperature, immediately remove from the heat.
Turn the mixer on low speed and, while running, slowly pour the sugar syrup down the side of the bowl into the gelatin mixture. Once you have added all of the syrup, increase the speed to high. Continue to whip until the mixture becomes very thick and is lukewarm, approximately 12 to 15 minutes. Add the vanilla extract during the last minute of whipping. While the mixture is whipping prepare the pans as follows.
Combine the confectioners' sugar and cornstarch in a small bowl. Lightly spray a 13 by 9-inch metal baking pan with nonstick cooking spray. Add the sugar and cornstarch mixture and move around to completely coat the bottom and sides of the pan. Return the remaining mixture to the bowl for later use.
When ready, pour the mixture into the prepared pan, using a lightly oiled spatula for spreading evenly into the pan. Dust the top with enough of the remaining sugar and cornstarch mixture to lightly cover. Reserve the rest for later. Allow the marshmallows to sit uncovered for at least 4 hours and up to overnight.
Turn the marshmallows out onto a cutting board and cut into 1-inch squares using a pizza wheel dusted with the confectioners' sugar mixture. Once cut, lightly dust all sides of each marshmallow with the remaining mixture, using additional if necessary. Store in an airtight container for up to 3 weeks.
Now the fun part – assembling the s'mores!
I did this in my air conditioned house with a brûlée torch, but doing to over a campfire would be much more authentic. Delicious either way.
Heat the marshmallow, place on top of one of the graham crackers. Place a square of milk chocolate on top, and if you are using fresh strawberries, add a slice or two on top of the chocolate, and add the top of the cracker until you have a sandwich!
Making a s'mores is self explanatory, right? 🙂