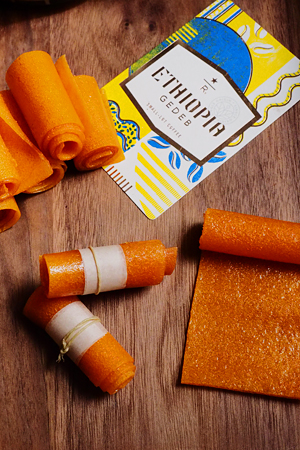 Ethiopia Gedeb is one of the newer coffees at the Roastery, and will be hitting all Reserve stores in September. Have you ever had a coffee that you just couldn't stop drinking? That is Ethiopia Gedeb for me. I have a doppio espresso of it every morning since I got it, and have been making small batches of cold brew to drink in the afternoon. It is one of those coffees that is just delightful any way you brew it.
Ethiopia Gedeb is complex cup, with honeysuckle aromas, and notes of apricot and ginger. Since this coffee has become part of my morning routine, I wanted to pair it with a quick and easy on the go snack. What better than a fruit rollup?
This coffee is crazy good, aside the fact that it is delicious, but it can pair with, and compliment so many different flavors. This is a coffee where I wish there were more hours in the day, because I have at least a dozen pairings in mind. I can't wait to see what other partners come up to pair with this exquisite coffee!
Let's talk about this coffee for a moment. Ethiopia Gedeb is a washed coffee with a medium body and acidity. You will notice a subtle sweet floral aroma, and then flavors of stone fruit, ginger and clove exploding in the cup. This coffee is the product of coffee farmer Alemu Bukato, who several years ago built a mill in Gedeb. His commitment to the coffee community is huge, from financial, to road construction to planting trees. Mr. Bukato does it all, and his passion and heritage are in the cup.
Apricot season is already over here in the midwest, but I decided to see if I could rehydrate dried apricots and use them instead. Lucky for me, it worked!

Apricot-ginger fruit roll ups
Ingredients
2 cups dried apricots
3 cups boiling water
3 cloves
1 tablespoon clover honey
1 tablespoon minced ginger
½ cup granulated sugar
Instructions
Preheat oven to 160 degrees. Prepare 2 baking pans with a silpat or with plastic wrap. Set aside.
In a large bowl (I used my soft brew for this and it worked out so well!) pour boiling water over apricots. Add the cloves to the water. Let soak for about 45 minutes. Strain (be sure to remove the cloves!) and reserve the water.
In a food processor or blender, blend the apricots, ginger, honey and sugar. Process until smooth and can be spread easily. If the mixture is too thick, add a tablespoon of the apricot water. Repeat until you have the desired texture and consistency.
Divide puree between the baking sheets. Spread in a thin, even layer with an offset spatula. Place in oven until firm, but still tacky. This can take several hours. My oven is still being crazy, but it took about 6 hours in the oven.
Cut with a pizza cutter or kitchen shears. Roll up with a strip of parchment and tie with a string.