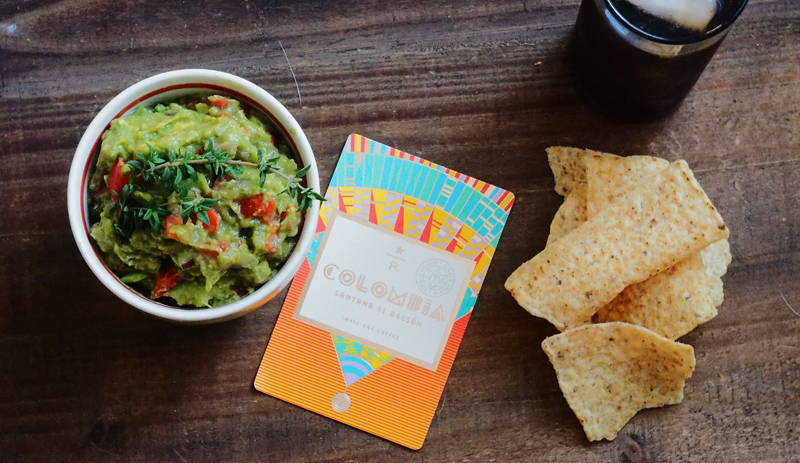 If there is one food I could eat for the rest of my life, it would be chips & dip. Hands down. Especially guacamole. I love a chunky guacamole, with loads of tomatoes and cilantro, just like Alton Brown taught me to make. One problem.. my husband hates cilantro 🙁 Some people have an allergy where cilantro tastes like soap. My poor husband is one of these people. We often clash on the subject of cilantro when I'm cooking dinner, so I have learned to work around it. If you think about it, a lot of the flavors in guacamole are found in Italian cooking; tomatoes, onions, garlic, and what herb goes better with those flavors than thyme? It's thyme for guacamole 🙂
When I first told my husband I was going to make a guacamole with thyme instead of cilantro, he said.. "interesting". Interesting yes, but thyme is a relative of the oregano family, which is very common in most guacamole recipes. I knew it could work, and because I am using tomato and thyme together, I decided to pair this with a cold brew of Colombia Santana el Bolsón. Coffee and chips? Why not!
Colombia Santana el Bolsón makes an incredible cold brew. It's juicy, it's savory, it's herbaceous, and when paired with this guacamole and lime tortilla chips, it makes that acidity pop!
As usual, I was inspired by Alton Brown, so I decided to use his guacamole recipe as a jumping off point. I increased the amount of tomatoes, and I used fresh peppers from my garden in lieu of  the jalapeño. I also decreased the amount of lime juice and swapped thyme for the cilantro. Just a few minor tweaks to perfectly tailor this guacamole with the coffee.
Thyme guacamole
Ingredients
3 avocados, halved, seeded and peeled
1 tablespoon of lime juice
½ teaspoon kosher salt
½ teaspoon ground cumin
½ teaspoon cayenne
½ medium red onion, diced
½ jalapeño pepper, seeded and minced
3 Roma tomatoes, seeded and diced
1 tablespoon chopped thyme leaves*
1 clove garlic, minced
Instructions
Place the avocado pulp and lime juice in a large mixing bowl and toss to combine.
Add the salt, cumin and cayenne and mash using a potato masher, leaving some larger chunks for texture. Add the onion, tomatoes, garlic, thyme and jalapeño and stir to combine. Lay plastic wrap directly on the surface of the guacamole and allow to sit at room temperature for 2 hours before serving.
Serve with lime tortilla chips.
Notes
*thyme leaves can be removed easily from the stem by scraping with the back of a knife.
recipe courtesy of
Alton Brown