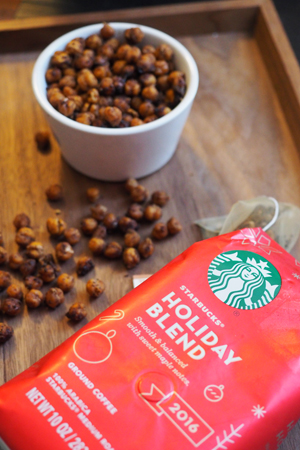 Holiday is just around the corner, and that means my favorite coffees are here! Thanksgiving blend, Christmas blend, aged Sumatra and Holiday blend!
For a long time, Holiday blend was the same as Christmas blend, just in a different package. In 2013 that changed, and Holiday blend became it's own blend of Latin American and Indonesian coffees. Holiday blend does not have aged Sumatra, and is a little less intense than our vintage Christmas blend. I know people say it's too early, but as soon as I saw Holiday blend in the stores, I became so excited. It really is the most wonderful time of the year!
When I think of holiday, I think of warm spices, mulled cider and wooly scarves. I wanted to put together a tasting that really highlighted these things. The thing about Holiday blend is that it has this great maple sweetness to it, along with warm spices and herbs, like cinnamon and cardamom. I wanted to bring all of these flavors together, and what better way to do that than with our Teavana Oprah chai. I love Oprah chai, and I think it gets forgotten about sometime as a brewed tea. It is very cinnamon forward, with cardamom and ginger. It has a big bite that I wanted to contrast with the sweetness of pure maple syrup.
Starbucks 2016 Holiday blend is a medium roast coffee with a medium acidity and body. This is a pre-roast blend of washed and semi-washed coffees from Latin America and Indonesia. Sweet and layered with an approachable complexity, this blend has the brightness you'd come to expect from Latin American coffees and the herbaceous qualities of beans from Indonesia. This blend will be sold in select Starbucks stores (in a beautiful white bag) in November, but is also sold pre-ground in grocery stores  right now (I got mine at Kroger).
Oprah chai roasted chickpeas
Ingredients
1 Teavana Oprah chai teabag
⅛ teaspoon black peppercorns
2 15oz can chickpeas, rinsed and thoroughly dried
½ teaspoon kosher salt
1 tbsp olive oil or coconut oil, melted
1 tbsp maple syrup
Instructions
In a spice grinder combine the contents of the teabag with the black peppercorns. Grind until a very fine powder. You can also kick up the spice by adding a pinch of red pepper flakes.
Drain and throughly rinse the chickpeas. Pat the chickpeas with a paper towel until very dry, or let them air dry for a few (5-10) minutes
Preheat the oven to 400.
In a small bowl, combine the oil, maple syrup, salt and spice mixture. Stir until combined. Add the chickpeas and toss until they are evenly coated.
Prepare a sheet pan with parchment paper, and place the chickpeas in an even layer.
Roast the chickpeas for 20-30 minutes, shaking the tray every 10 minutes. The chickpeas are done when golden and slightly darkened, dry and crispy on the outside, and soft in the middle.